CAF Champions League
Gor Mahia coach 'turned on' by the warm reception in Tunisia ahead of the Esperance Caf tie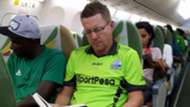 Gor Mahia coach, Dylan Kerr was 'turned on' by the support the Kenyan champions received in Tunisia ahead of the Caf Champions League second round match against Esperance.
K'Ogalo received a warm reception after landing in Tunis ahead of Sunday's do-or-die clash with Tunisian giants at the Stade Olympique de Radès stadium.
Kerr, who forced a 0-0 draw with Esperance at home two weeks ago, has now urged his charges to take advantage of the support by a section of Tunisia fans even as he remains alive to the fact that Esperance supporters will not make things any easier for his players.
"While we have been here, I must admit that these people (Tunisians) have been fantastic. They are wheeling Gor Mahia to win this game. Maybe they are not Esperance supporters, maybe they are not Tunisian football supporters, but everybody has been welcoming to us. That turns me on as a football coach. Everybody wants Gor Mahia to win," the Scott said.
Asked about his expectations ahead of the tie, Kerr said: "It's hard to be honest because you don't know what atmosphere it's going be like tomorrow (Sunday). You don't know how the players are going to feel because it can be very intimidating. There's going to be a strong crowd here."
Kerr, however, was irked by the decision by the host country to deny Gor Mahia a chance to watch one of the local Tunisia Premier League match staged on Saturday at the same venue.
"Right now (Stadium) it's empty. We came to watch club Tunisia play this afternoon but the match commissioner would not allow us which I wasn't happy about because I wanted to sample the emotion, the joy and the hunger for the love of football with Tunisian teams playing. That was a shame.
Any score line draw will see Gor Mahia book a place in the group stages.