Chemelil v Gor Mahia
Gor Mahia CEO responds to financial allegations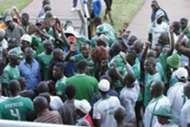 Gor Mahia Chief Executive Officer Lordvick Aduda has refuted claims by the club's organizing secretary Judith Nyangi that he is embezzling club funds.
Nyangi, early this week, claimed that Aduda, in cahoots with the treasurer Sally Bolo, are misusing their position by illegally deducting players' salaries.
Nyangi further added that the two have ganged up to sabotage her, even going behind her back to conduct the responsibilities of an organising secretary.
"The treasurer had been misusing club's money the way she wants. She has been colluding with this other cartel called Aduda to deduct player's cash without the knowledge of the Executive Committee," said Nyangi in a long statement posted on the club's face book page.
"Mike Simiyu (player) was paid 15k less last month and repeatedly this month. The chairman ordered the treasurer to immediately pay the boy his full arrears which up to now nothing has been done."
But in a rejoinder, CEO Aduda refuted claims that they have deducted players allowances, further revealing that the club is not in dire financial troubles.
"The CEO is not a signatory to the club's account. If someone opens her mouth and say that money has been lost, then that could also mean that the signatories, who in this case are the chairman, the treasurer, secretary and vice treasurer are the culprits," Aduda told Goal.
Aduda termed the allegations are 'hog-wash', clarifying that the claims are not possible because "nobody is being paid in cash."
"All players' salaries are being channeled through individual bank accounts."
On the Mike Simiyu case, Aduda explained that it was a club decision taken to push the former Muhoroni Youth player to work hard.
"When we bought this boy, we thought that he would help the club, but upto now, he's not made even a single start.
"He refused to go out on loan as was recommended by the coach. He wanted to prove himself at Gor Mahia and we accepted the request on condition that we reduce his salary."