FIFA 20
Goal Ultimate 11 powered by FIFA 20 | Robertson is the best left back in the world!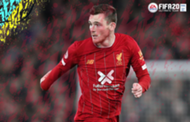 Scottish left back Andrew Robertson was voted as the best player in the world in his position, beating out like minded compatriots becoming the fifth player to cement his position in the Goal's Top eleven powered by FIFA 20 as we attempt to identify who you think are the best footballers around the world.
Robertson led the table with 47% of the votes (8400) beating out the only close competitior Marcelo who ended up with 44% of the votes (7900) followed by Jordi Alba, David Alaba and Alex Sandro ending up with 1300, 280 and 180 votes respectively. 
Stay tuned to this space as we ask for your help to identify the best defensive midfielder in the world.