FIFA 19
Goal Ultimate 11 powered by FIFA 19 | Dani Carvajal is the best right back in the world!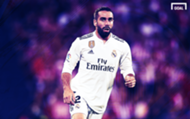 Dani Carvajal's performance in recent times has led to a sense of admiration from Goal.com readers as the Spaniard was voted as the "best right-back in the world" beating out like minded compatriots to be the second player to cement his position in the Goal's Top eleven powered by FIFA 19 as we attempt to identify who you think are the best footballers around the world.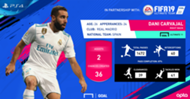 Carvajal led the table with 39% of the votes (3,770) beating out Joshua Kimmich and Sergi Roberto who had a close battle with each other ending up with 2,960 and 2,679 votes respectively. They were followed by England righ-back's Kyle Walker with 503 votes and Kieran Trippier with 293 votes.
Stay tuned to this space as we ask for your help to identify the best center-back soon