Goa Super Cup: Season 5 to kick off on May 9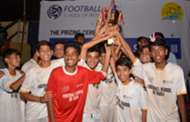 The fifth edition of the Goa Super Cup, an international youth football tournament conducted annually in the state of Goa, will commence on May 9, 2018, and will run till May 13.
Here's all you need to know about the tournament:
---
Format and age groups:
The cup tournament will be held in four age categories - U-11, U-13, U-15, U-17 for boys, and two categories - U-13, U-15 for girls. The boys' U-13 and U-17 matches will be 11 vs. 11 and the rest will be seven-a-side matches. 
Teams will be set up in groups of four and the top two teams from each group will qualify for the knockout stages.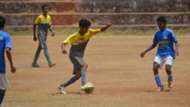 Location:
The tournament will be held across several grounds in South Goa close to the main town of Margao. 
Travel, food and accommodation:
Teams will be provided bus pick-up from Margao train station, Margao bus station &/or Dabolim Airport on the stated date of arrival & dropped to their allotted hotel. On the stated date of departure, teams will be picked from their hotel & dropped to the above three options, as decided
Teams will be accommodated in standard resort-category hotels. The names, address, contact details will be provided on registration. Breakfast, lunch & dinner will be provided to each team member.
---
Goa Super Cup is organised by India's fast-growing academy - Football School of India (FSI) which is headquartered in Navi Mumbai & has over 22 training centres across India. 
For Registration:
[📞] +91 - 9022291435, 8976044465
Email: sajid@footballschoolofindia.com , goasupercup@gmail.com