Premier League
Ghana's deputy attorney general explains new decision on Ghana FA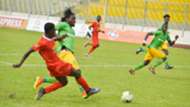 Ghana deputy attorney general Joseph Kpemka has shed light on government's resolve to discontinue its planned liquidation of the football association on orders of Fifa.
The authorities were given an ultimatum by the world football's governing body to withdraw an attorney general's petition to an Accra High Court seeking to dissolve the FA after an investigative documentary exposed corrupt and match-fixing activities of top officials and referees. 
Government had initially stated its stance not to "bow" to any contrary international order but further considerations after Fifa issued an August 27 deadline saw the liquidation plan rescinded after a delegation held a successful meeting with Fifa in Switzerland.
"We are living not as an island, but we live by a comity of nations and our membership of international organizations are predicated on principles, on rules, on regulations, and on law," Kpemka said on 3 FM. 
"And so far as you subscribe to an international organization, then you must again agree with the principles, rules, and regulations governing that international organization. 
"That's a basic fact, so fundamental to any agreement that anybody can actually reach."
Kpemka also spoke on government's decision to liquidate the FA after the scandal rocked the country in June. 
"We invoked the appropriate sections of law which is the legal system in our country.
"We decided that by the official Liquidations Act, we could actually invoke certain sections of it to say that the company formed was being used for a purpose either than what it was intended for, and so we then petitioned the court to order a dissolution."
GFA president Kwesi Nyantakyi resigned shortly after the scandal.