Africa Cup of Nations Qualification
Ghana must pay attention to 'little mistakes' to win 2019 Afcon, says Mensah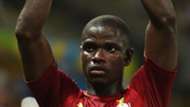 The Black Stars last clinched the title 36 years ago, but have reached the semi-finals on seven occasions since then, including three finals in 1992, 2010 and 2015.
Mensah, who has already suffered heartbreaks in two grand finales, believes Ghana can break the jinx if they work on their mistakes ahead of the upcoming tournament.
"We have kept knocking at the door in an attempt to win at least one of the tournaments but to no avail. I think we don't need to do big things to win," Mensah told Atinka FM.
"Cameroon won the last tournament without doing anything extraordinary, but by paying attention to the little details. 
"We've been in the semis in six consecutive editions. We are always favourites but we haven't won even one. I think that all we need to know is what we have to do and fix that missing link [when we qualify] and work on our little mistakes. I think we can win it [in 2019]," he added.
Mensah also revealed that Deportivo
Alaves
midfielder Wakaso Mubarak is his all-time best teammate.
"I will say Mubarak Wakaso is my best teammate of all-time. I've known him since we played in the same U-12 team for our school since we were kids," Mensah said. 
"Everyone knows the dedication and passion he attaches to his play. I will choose him on any day," he added.
Ghana are two places below the qualification slot in Group F but have two games against Ethiopia and
Kenya
to save their blushes.
Mensah has represented Ghana in five Afcon tournaments and boasts of 60 caps and one goal.