Premier League
Ghana government to rename Tamale stadium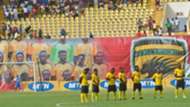 Ghana president Nana Addo Dankwa Akufo-Addo has officially revealed that the Tamale Sports Stadium will be renamed "Alhaji Aliu Mahama Sports Stadium", in honour of the late vice president of the country, who served between 2001 and 2009, and passed away in 2012.
Akufo-Addo, during his campaign ahead of the 2016 general elections, promised the people of the Northern region that if voted into office he would name the facility in honour of the former statesman.
"Alhaji Aliu Mahama had so much to do with it and I think it will be a proper monument to him and a testimony to his contribution," Akufo-Addo said.
"Aliu Mahama was a colleague and a very valuable member of the team that worked with former President J.A. Kufuor. His premature departure continues always to be a very emotional matter for us," he added.
The minister for Youth and Sports, Isaac Asiamah, also lauded the contributions of Aliu Mahama, describing him as an icon for sports development in the country.
"He contributed immensely to sports development and sports promotion in the country. He was an icon for sports and youth development in Ghana. His campaign for greater discipline inspired most of us," he said.
Tamale Sports Stadium was part of the four stadiums that hosted the 2008 Africa Cup of Nations.
It is also the home ground of former Ghana Premier League side Real Tamale United.