Ghana
Ghana FA visits injured Baba in Germany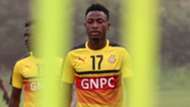 Injured Ghana defender Baba Rahman was the host of Ghana Football Association officials at his Gelsenkirchen base in Germany over the weekend.
The two-man delegation was led by GFA vice president George Afriyie, who was accompanied by Emergency Committee member Kweku Eyiah.
Baba picked up a knee injury at the recent Africa Cup of Nations in Gabon, and following surgery, the 22-year-old faces about seven months in the treatment room.
"I have some months ahead of me to return to full fitness and I am sure I will get there," the left-back told the delegation, as reported by the FA's official website.
"The kind messages and support I have received from the GFA and my Black Stars team-mates have been a great source of strength and energy for me.
"Let me thank the GFA and my team-mates for the support I have received since suffering the injury.
"Ghanaians and many have also used social media to tell me of their prayers and support for me to recover fully. Let me thank all of them for their kind gesture."
Baba's injury was described as "not serious as initially feared" after the incident which occurred in Ghana's opening game against Uganda.
Further diagnosis, however, showed that the fullback suffered a bruised meniscus, bringing his tournament to an immediate end.
"We are happy to see that there's been continued improvement since Baba had the surgery," Afriyie said.
"Where he is today, with regards to when he suffered the injury, is huge. We have to thank everybody particularly the Schalke medical staff for their care.
"Baba was also grateful for the support he has had from the GFA and we assured him that we will continue to support him to get back on his feet stronger."
Baba is currently on loan at Schalke 04 from Premier League giants Chelsea.