I-League
Genie in a bottle: Why Eugeneson Lyngdoh needs to snap out of the spell for both Bengaluru and India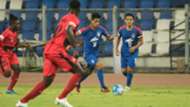 As far as synonyms go, Eugeneson Lyngdoh is best associated with a cleaving passing, fantastic delivery, excellent control, impeccable timing and an eye for goal. So, when a Lyngdoh sets up his striker with an important pass, besides scoring a stunner himself, you'd expect ballots unnecessary to attest for the 30-year-old's brilliance. 

Yet, on this occasion it was a Lyngdoh from Churchill Brothers who grabbed all the headlines. 27th January saw young Chesterpoul Lyngdoh outclassing his namesake all ends out as the Red Machines secured a thrilling 2-1 victory over the I-League's reigning champions Bengaluru FC. The Blues' Lyngdoh was already far out of form and principle. 
Please retire, Arsene - before you destroy everything
Despite securing three wins in a row at the beginning of the season, Benglauru FC's talismen, Sunil Chhetri and Lyngdoh, seemed drained and out of form. The signs were a plenty, especially for the latter. In the very first match of the season Lyngdoh scuffed two chances in a row from just outside the box, something which he would have normally buried in his sleep with eyes closed. 
The traits mentioned in the first line of this article were on display in Bengaluru's superb run into the Asain Football Confederation's (AFC) Cup Final last time around when Lyngdoh's piledriver earned his side an away goal against Johor before he ran the proceedings back at home, setting up three goals as Bengaluru trounced their opponents.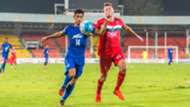 Yet, this season, this is a Lyngdoh who is stunted, afraid of grabbing those half chances with both hands that has typified his time in Indian football. It was the Shillong-born native's return from injury last season that drove the Jindal Steeel Works (JSW) owned team to their second title after trailing
Mohun Bagan
for most of the season - the midfield dynamo scored three goals in his last four matches to nearly win his side the trophy single-handedly.
Yet, in the eight games he has played so far this season, it has only been a yellow card that he has to show for all his efforts. No goals and, most importantly, no assists. 
It could as well be, his unsuitability in adjusting to Albert Roca's style of play, not that it should be, knowing how he can effortlessly control the ball at his feet and make it dance to his tune. Whatever it is, not only is it costing Bengaluru but the prospects of the Indian national team. 
After returning from injury, Lyngdoh had lined up in three matches for the national side and looked out of place in all three, including the match against Puerto Rico where he was guilty of spurning quite a few chances, even though
India
eventually won 4-1. 
With
India
's
Asian Cup
Qualifying campaign coming up, coach Stephen Constantine would love to have his premier midfielder back in form and raring to go. The dearth of box-to-box midfielders is also a headache for the Englishman. While Pronay Halder is more of a defensive midfielder, Souvik Chakraborty who has the ability to step up, has so far failed to impress with his meek displays.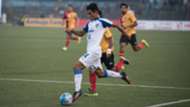 Lenny Rodrigues, after a decent start, has been woeful at Bengaluru while Rowllin Borges who was truly impressive in the
Indian Super League
(ISL) has been relegated mostly to the bench by Trevor James Morgan. Dhanpal Ganesh at Chennai City has had a couple of decent games but hasn't yet looked at his best yet.
Meet David Wagner: Klopp's best man preparing an FA Cup giant-killing for Guardiola

With Sunil Chhetri returning to form after scoring the penalty against Churchill, his first goal after 11 matches - it might be that Eugene too would need one spark that could see him torch his way back to the rest of the season - something which both Roca and Constantine would most look forward to!