NxGn
Future Real Madrid star Vinicius Junior: I model myself on Neymar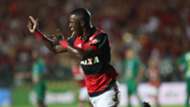 Future Real Madrid star Vinicius Junior says he models himself on Neymar and tries to learn every time he sees his idol take to the field.
The 17-year-old Vinicius has made Goal's prestigious NxGN list of the 50 best Under-19 talents in world football, which will be released in full on Wednesday.
He has been repeatedly labelled 'the new Neymar' and while insisting he doesn't take the tag too seriously as he is intent on making his own name, he has admitted he looks to the PSG and Brazil star for ways to improve his own game.
"I do not pay attention to the comparisons, but I have always followed Neymar," Vinicius told Goal.
"I have more contact with him nowadays and, when I watch him play, I try to take things to improve myself. I do not want to be another Neymar, I want to build my own career and spread happiness for everyone from Brazil."
Vinicius shocked the world last year when he agreed a €45 million switch to Madrid before even having made his professional debut.
He now appears set to join the Spanish side in July 2018, when he turns 18, but that move could yet be delayed and he currently is focused on making himself a regular for Flamengo and leaving the club with a major title under his belt.
"Everyone in the youth team dreams about that and it's no different for me," he said.
"The dream is to win the Copa Libertadores and the Brazilian league title, to have at least one big day with Flamengo."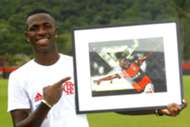 "Flamengo was the club that helped me when I needed it. I have been here since I was 10-years-old.
"When I step out onto the pitch, I always remember my first day at Flamengo and everyone who helped me.
"[Youth team director] Norval helped me a lot, and the structure I was provided by Flamengo turned me from the worst to the best."
To find out where Vinicius ranked in the 2018 NxGn, visit Goal from 1200 UK time on Wednesday.