Opinion
France win makes Nigeria's Argentina defeat look worse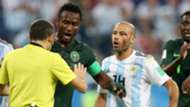 ---
COMMENT    By Rotimi Daramola
---
France's comfortable victory over a vulnerable Argentina side in their World Cup Last 16 match on Saturday proved to many Nigeria fans that the Albiceleste were there for the taking.
The Super Eagles needed just a draw to progress in their final group side, but a combination of pressure, tactical errors and maybe even refereeing errors conspired to eliminate the West African giants.
As France showed, and Croatia before them, Argentina were nothing special in this tournament, and Gernot Rohr must be held accountable for the errors in judgement that cost Nigeria the chance of progression.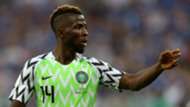 1. Starting Kelechi Iheanacho
Against Iceland, the Leicester City striker was an effective presence, but against a physical and unforgiving Argentina defence, he found life difficult.
He struggled to beat Marcos Rojo in the air, while he didn't hold up the ball well and was slow in possession.
Rohr should surely have plumped for the more physical Odion Ighalo for this contest.
Admittedly, the Changchun Yatai forward did fluff his lines in the second half after being introduced, but he should have been there from the start in order to trouble the Argentinian defence when Nigeria sought to play it long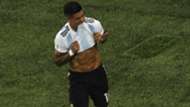 2. Not taking advantage of a fragile Argentina defence
For all the talk about the firepower that Argentina boasted, their defence was notorious for being fragile — just look at how they were exposed by Kylian Mbappe on Saturday.
Croatia and Iceland had already shown Nigeria the way forward, but Rohr's set-up meant that their pace players weren't able to expose the Albiceleste backline in the way the South Americans' other opponents did.
Why did Rohr opt to sit deep — a common trend among many of Africa's teams in this tournament — and focus on stymying Argentina's attack, rather than exploiting the South Americans' defensive deficiencies.
It was a missed opportunity.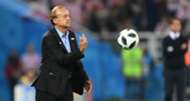 3. Rohr's late twist
The German gaffer is known for being able to make drastic changes when necessary, especially after the first 45 minutes.
In the friendly against England, for example, he shuffled things at half-time which led to a better second half from the Super Eagles. The same happened in the game against Iceland.
His move to sub off Iheanacho for Ighalo was an instant improvement for the Eagles, as the China-based forward at least offered an aerial threat — if not a goalscoring edge.
However, Rohr waited too long to counter the moves made by Jorge Sampaoli.
The second substitution didn't come until after Maximiliano Meza and Sergio Aguero had been introduced, despite Ahmed Musa looking visibly worn out.
Argentina were again afforded too much respect by Rohr and the Super Eagles.
Their 4-2 unravelling in Krasnodar, their 3-0 thumping by Croatia and Saturday's 4-3 elimination at the hands of France proved how vulnerable they were.
Rohr simply didn't have the confidence in his own strategy or in his players to exploit their clear deficiencies.