Mamelodi Sundowns
Former Sundowns striker Mame Niang backs Senegal to beat Bafana Bafana in replay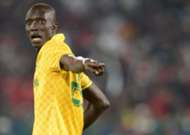 Former Mamelodi Sundowns striker Mame Niang believes that Senegal will be more determined to beat South Africa next month.
The Senegalese player feels that the Lions of Teranga are eager to overcome Bafana Bafana with the sentiment in that West African country being that they were robbed last year.
South Africa defeated Senegal 2-1 in the 2018 Fifa World Cup qualification (Caf) Group D match at the Peter Mokaba Stadium in Polokwane on 12 November 2016.
However, Fifa ordered a replay after the Court of Arbitration for Sport (CAS) upheld the lifetime ban of match referee Joseph Lamptey, who was in charge of the game.
"I think it will be really tough for Bafana when they play Senegal because now they will have a point to prove after losing last year's game," Niang told The Sowetan.
Lamptey, who hails from Ghana, was also slapped with a lifetime ban by FIFA due to match manipulation when Bafana beat the Lions of the Teranga
"The entire Senegal was upset after that match because we could see that something was not right with the referee's decisions," Niang concluded.
The rematch is scheduled to take place at the Peter Mokaba Stadium on 10 November 2017
Senegal will then host Bafana in the return leg clash at the Stade Léopold Sédar Senghor in Dakar four days later.
Bafana will qualify for the World Cup finals if they win both matches.