Mamelodi Sundowns
Former Sundowns star Kenny Niemach: How negative football impacts on South African strikers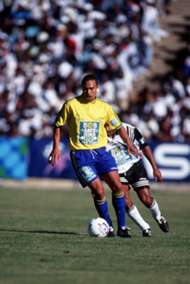 Former Mamelodi Sundowns attacker Kenny Niemach has shared his reasoning behind South African footballer's struggles in front of goal.
South African football has for years suffered from a lack of goals. Very rarely has a striker ended a Premier Soccer League (PSL) season with 20 goals or more.  
Nonetheless, Niemach, who also featured for Kaizer Chiefs during his playing days has suggested that perhaps the surge of defensive tactics among coaches in the PSL is to blame.
"I think the way the coaches set up their stall, and because football now is big business, losing a game could cost you your job. All teams' first point of call is to not lose – so in other words, coaches become defensive," Niemach said in an interview with Phakaaathi.
"Before they can think of scoring goals, they think 'how do I defend?' So the mind registers the game on a negative note. Previously you would have a 4-4-2, now one striker is preferred. It doesn't say you are a better (or worse) striker but the game doesn't afford you the opportunity to score more," he added.
Meanwhile, Bafana Bafana most recently played out to a goalless draw in Seychelles, only days after thumping the Pirates 6-0.
"I think the national team coaches need to look at players in the second tier to hopefully unearth a gem, and then maybe these ones that consider themselves superstars might pull their fingers out and perform," he said.
Niemach though, has sang the praises of Sundowns' Sibusiso Vilakazi and former Brazilian Percy Tau, who he says are the example that South African players should follow.
"Another thing, players need to express themselves, I like (Sibusiso) Vilakazi and Tau because they understand they are in the game of entertainment, that is what the game is about. More of our players need to understand they are also entertainers and if they do that the game will once against come alive and people will come and watch them," he said.
"Most players lack charisma, they don't present themselves. They need to start doing that and people will start watching them, but I like Tau and Vilakazi because they try anything they want without fear or hesitation," he concluded.