Robert Kovač
Former Bayern Munich star Robert Kovac saves pensioner after daylight robbery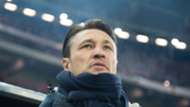 Former Bayern Munich defender Robert Kovac has been praised after collaring a street thief who stole €40 from a pensioner. 
Liverpool eyeing up Roma's Salah
Kovac, who has walking his dog at the time, witnessed the robbery take place at a cash point and moved to aid the local man.
The former Croatia international was said to have seen the culprit running from the scene and pursued him, pinning the offender to the floor before authorities arrived.
Currently assistant manager to his brother Niko at German side Eintracht Frankfurt, Kovac then helped the 72-year-old following the attack before handing the culprit over to the police.
Robert Kovac zu seiner großartigen Rettungstat am gestrigen Abend   #SGE #Zivilcourage pic.twitter.com/j2RYexpXRx

— Eintracht Frankfurt (@Eintracht) May 9, 2017
"Civil courage is always important but I don't know if I would always act like that," Kovac is quoted by Bild . "It depends on situation, but I'm glad it worked out."