Manchester United
Forget about Pogba, Man Utd won't win another title with Smalling and Jones in defence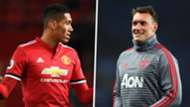 Shortly after Matt Ritchie had slotted home what would turn out to be Newcastle United's winner, Jose Mourinho replaced Paul Pogba and asked his Manchester United side to chase the game without their most expensive signing.
On any other day, Pogba's continued run of poor form might quite rightly be held up as United's key problem, but in truth we had just seen the latest reason why they are still a long way short of title material.
The 1-0 loss at St James' Park was an exhibition in abysmal defending, and Chris Smalling in particular could quite easily have contributed to them conceding far more goals.
Just as Phil Jones had played his part in two Tottenham goals the last time United played away from home, Smalling managed to display all the negative sides of his skill-set while failing to present any positives.
He was the offender when Craig Pawson should have awarded the home side a penalty late in the first half, challenging Dwight Gayle with the wrong leg, and ending up tying himself in knots and bringing down the Newcastle striker just inside the area.
The England defender was then to blame when United had a goal ruled out, needlessly climbing on Paul Dummett before Romelu Lukaku headed past Martin Dubravka.
Not long after came the piece de resistance. Smalling somehow decided it was a good idea to anticipate a Jonjo Shelvey challenge that never arrived as he carried the ball out of defence, taking a dive which rightly earned him a yellow card and gave Newcastle an attacking free-kick just when they had been looking vulnerable at the back themselves.
From the resulting set piece, Florian Lejeune was allowed to rise unchallenged at the far post and Ritchie swept home as United stood watching in the centre of the goalmouth.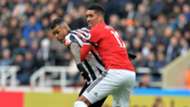 United's attack was hardly at its most potent, with Lukaku, Anthony Martial and Alexis Sanchez all missing decent chances to put them ahead, but it had ultimately been their defending which had lost them the game again.
The statistics will tell you that Mourinho's side don't have too bad a record defensively - 19 conceded in 27 league games - but in truth they look a shambles all too often and are regularly bailed out by the brilliance of goalkeeper David de Gea. As Nemanja Matic's effectiveness has waned, United's defensive horror-shows have become far more pronounced.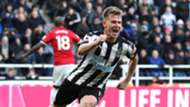 Just as Jones drew all the attention with a horrendous own-goal at Wembley on their most recent travels, Smalling's untimely dive characterised this latest defeat. And while United have added star after star to their attacking depth over the last couple of years, there is still a clear need to address their quality without the ball.
That Matic and Pogba were both replaced in the second half says much about their form of late, and it is no coincidence that there have been defensive calamities in greater number since the pair of them have gone off the boil.
Where the resources in the attacking half were previously papering over the cracks, the real problem for Manchester United is now all too evident. United need to seriously sort out their defence if they're going to become a true title contender any time soon.