KPL
FKF set meetings with KPL to discuss return of SuperSport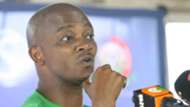 Football Kenya Federation have promised to renegotiate the return of SuperSport as Kenyan Premier League sponsors.
FKF President Nick Mwendwa says the federation will hold discussions with KPL to find a solution after the broadcasting company quit on Friday. "We have set two meetings with KPL to discuss a number of things and among them is to have SuperSport reinstated as sponsors.
"We don't know the exact reason why they (SuperSport) pulled out and that is why we have planned to meet KPL officials starting next week to get the clear picture. I am sure whatever SuperSport wants, we can reach an agreement and give it to them."
Mwendwa also hinted at a possibility of the federation playing a huge role if SuperSport returns as sponsors. "We will definitely be involved and want to know every detail of what they sign with KPL. Those are some of the things we want sorted out. We are the custodians of the sport in Kenya and what KPL does is to oversee the same."
On Friday, KPL chairman Ambrose Rachier confirmed to Goal that they have received a letter from SuperSport informing them of the decision to cut ties which comes ahead of the league's round 4. The main reason for the fallout as per the letter is the upholding of Sports Disputes Tribunal's ruling which increased the number of top flight teams from 16 to 18 starting 2017. 
The shocking news came with a three-year period remaining in the contract after the South Africa-head quartered television company extended the deal by five years in December 2014.