Football Business
FIFA plans women's Club World Cup as part of new 'global strategy'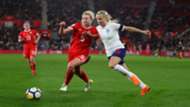 FIFA wants to double worldwide participation in women's soccer to 60 million by 2026, the governing body announced in its inaugural 'global strategy' for the women's game.
As part of the goals which were revealed by Fatma Samoura, FIFA's first female Secretary General, the global organisation has also set out plans to introduce a women's equivalent to the men's Club World Cup.
The men's competition, which has existed since 2000 and brings together the winners of each region's continental tournament, was won by Real Madrid in 2017. One such suggestion put forward by the new strategy has been described as a 'FIFA Women's World League'.
Other competition proposals presented include an increase in the number of youth development tournaments, as well as a women's FIFA futsal event.
The governing body has also set further targets in terms of participation, with a desire to double the number of member associations that have organised youth leagues for women in place by 2026.
In addition, the strategy seeks to grow the influence of female executives, with every member association expected to have at least one woman on their respective executive committees by 2026, while FIFA itself is to ensure that at least one third of its own committee members are female.
Samoura said: "We will work hand-in-hand with our 211 member associations around the world to increase grassroots participation, enhance the commercial value of the women's game and strengthen the structures surrounding women's football.
"Most importantly it will make football more accessible to girls and women and encourage female empowerment, a subject of great importance, now more than ever before."
The announcement of the plans comes just days after the shortlist for women's soccer's first ever Ballon d'Or was revealed. England pair Lucy Bronze and Fran Kirby have both been nominated.