NPFL
FC IfeanyiUbah's Wasiu Jimoh in dreamland after wonder goal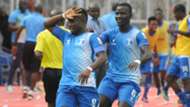 FC Ifeanyi Ubah's Wasiu Jimoh has stated that it was his instinct that led to his wonder goal against Rivers United on Friday in Port Harcourt.
Jimoh stunned the Pride of Rivers with an audacious strike from just after the centre circle to hand his team a priceless equaliser in the second half of the friendly encounter played at the Yakubu Gowon Stadium, Port Harcourt on Friday.
The Anambra Warriors were trailing 1-0 to their hosts through the first half goal of Ivorien striker, Guy Kuemian Venance before Jimoh's touch of class leveled the proceedings.
"It was a goal I never expected it would be at the back of the net because it was scored from just after the centre circle," Jimoh told Goal.
"I noticed that Rotimi left his goal post and I said to myself it could be an opportunity for us to equalize and I decided to try it. I was very happy when I found out that it went in because it would have been an easy catch or a save had the goalkeeper stayed at his post area.
"I have been training harder to score this type of goal. I am delighted that my hard work during training sessions has been rewarded. It was a difficult game for us because we have not played too many high profile games in recent time."
Jimoh was a winger of repute before he was converted to a right back at the beginning of the season by coach Ladan Bosso but against Rivers United, he played from his natural position.
He confirmed that he would like to play from any position he is entrusted by his coach and he added that playing very close to the final third enabled to develop the courage to shoot from a long distance in Port Harcourt.
"I can't decide where to play by myself. I must receive a goal ahead from the coach to do that," he continued.
"I will continue to play under our coach's instructions. It was an opportunity for me to play as a winger today (Friday) and I will be happy to do more next time. The friendly match has opened our eyes to so many things.
"We must head back home and make the necessary corrections before the league's resumption. We must be prepared for the league because we are not happy at our present spot in the league table."