Gaming
Fantasy Football: Four-goal Aguero leads Goal's Fantasy Team of the Week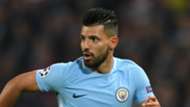 We've now seen the back of match week 27 and it was another great one, filled with fantastic individual performances. Sergio Aguero stole the headlines with his four-goal haul against Leicester, whilst teammate Kevin De Bruyne notched a hat trick of assists.
Meanwhile, Chelsea got crucial big games from Eden Hazard and Victor Moses, and Martin Dubravka had one of the greatest goalkeeping debut's in recent memory.
While many Fantasy owners will want to rush out and buy these players, it is probably the better part of valour to hold off for now. With Champions League matches happening midweek and FA Cup taking over at the weekend, plenty could happen before the next Premier League match on 24 February. While you wait for the next round, though, feel free to peruse our Goal Premier League Team of the Week.

GK: Martin Dubravka - Newcastle - 1 Game, 4 Saves, 1 Clean Sheet = 9 Points
DF: Victor Moses - Chelsea - 1 Game, 1 Goal, 1 Clean Sheet = 14 Points
Moses showing up in the Team of the Week isn't exactly a surprise as he currently sits as a top five defender in the Goal game. What was surprising about his performance on Monday was the goal as the Nigerian found the back of the net for just the second time this season. While he looked great this week, matchups against both Manchester clubs over the next two weeks should see most managers steer clear.
DF: Ben Davies - Tottenham - 1 Game, 1 Assist, 1 Clean Sheet = 10 Points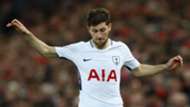 DF: Aaron Cresswell - West Ham - 1 Game, 1 Assist, 1 Clean Sheet = 10 Points
MF: Eden Hazard - Chelsea - 1 Game, 2 Goals = 14 Points
It has not been fun to own Hazard in the past as he tends to notch a lot of blanks, but even his biggest detractors cannot argue his recent form. In fact, only Sergio Aguero has scored more goals than Hazard's five over the last five weeks. Those goals are certainly nice, but over that same stretch he also leads the league in chances created, so assists should be on the way as well. The next two matchups are tough but, if you're a believer in Hazard, feel free to follow form over fixtures.
MF: Kevin De Bruyne - Manchester City - 1 Game, 3 Assists = 11 Points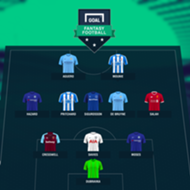 MF: Mo Salah - Liverpool - 1 Game, 1 Goal, 1 Assist = 11 Points
MF: Gylfi Sigurdsson - Everton - 1 Game, 1 Goal, 1 Assist = 11 Points
Sigurdsson's move to Everton has certainly not been as successful as he, Everton fans, or Fantasy owners would have liked. That having been said, the Icelandic just put in his best performance of the season thus far, notching 11 points in the Goal game. Whether or not he can turn Saturday's success into a run of form remains to be seen but, regardless, it was nice to see a glimpse of what we know Sigurdsson can do.
MF: Alex Pritchard – Huddersfield - 1 Game, 1 Goal, 1 Assist = 11 Points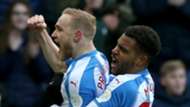 FWD: Sergio Aguero - Manchester City - 1 Game, 4 Goals = 22 Points
What a performance this was! Not only did Aguero score four goals, but he scored all of them in the second half. He now boasts two of the top three weekly scores in Fantasy this season and has scored a ridiculous eight goals in the last five weeks. The Argentine does face a somewhat difficult stretch of fixtures, but anyone betting against City or Aguero has clearly not been paying attention this season.
FWD: Steve Mounie - Huddersfield - 1 Game, 1 Goal, 2 Assists = 13 Points