Super League
FAM doesn't owe Kelantan money, it's Kelantan who owe FAM - Hamidin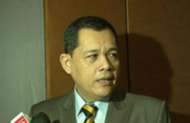 ---
BY        ZULHILMI ZAINAL       Follow on Twitter
---
The Malaysian FA (FAM) has refuted Kelantan advisor Tan Sri Annuar Musa's claim that the association owes Kelantan around RM2 million (around 370,000 British Pound) in grants and prize money, and hit back saying that it's the Red Warriors that owe FAM.
In a statement issued on Thursday, FAM secretary-general Dato' Hamidin Amin explained that the grants and broadcast revenue have already been distributed, and several forms of payment to clubs in the Super League and Premier League do not exist anymore.
"Firstly, the association on December 30, 2016 has credited the prize money for the 2016 Super League and the Premier League to the winning teams, an amount totalling RM2.025 million.
"Secondly, annual grants are not paid to the teams anymore beginning from the 2016 season, when the Malaysian League was privatised. The teams have been made partners in the league and get a share of the 40 per cent of revenue in broadcasting and commercial rights, described as broadcasting and commercial rights distribution for their participation in the league.
"For the 2016 season, about RM41 million has been received from broadcast and commercial rights and 40 per cent of this should be shared with the teams; approximately RM16.4 million. But all clubs have been given a total of RM18 million, RM1 million per Super League team (12 teams) and RM500,000 for each Premier League team (12 teams), and an additional RM2.025 million for prize money.
"As 40 per cent of the RM41 million only comes up to RM16.4 million when the teams should be receiving RM20.025 million, FAM has paid the remaining RM3.625 million to the teams first, on behalf of Football Malaysia LLP (FMLLP).
"However the previous practice of providing teams with bigger shares of the broadcast and commercial rights depending on their league position (up until 2014) could not be continued, as the broadcast and commercial rights revenues only came up to RM41 million, and not RM70 million as targeted earlier. However this practice may be resumed again in the future, if the RM70 million target is achieved.
"Please take note that broadcasting and commercial rights revenue awarded to Super League teams has been increased by 100 per cent beginning in 2016 as compared to the annual grants provided by FAM previously, from RM500,000 to RM1 million, and an increase of about 67 per cent from RM300,000 to RM500,000 for Premier League teams.
"On the matter of the share of broadcast and commercial rights revenue for teams in the 2017 season, the FAM executive committee in a previous meeting has agreed that the first 50 percent (RM500,000 for Super League teams and RM250,000 for Premier League teams) will be paid in January 2017, while the remaining 50 percent will be paid when the league has kicked off.
"Thirdly, the practice of paying the home and the visiting teams for live telecast of Super League and Premier League matches has already been discontinued beginning from the 2015 season, after the sponsorship from Astro ended, as has been noted by all the teams," explained Hamidin.
More embarrassingly, it is Kelantan FA (KAFA) that still owes FAM money, to the tune of RM430,000, countered Hamidin.
"The association has reviewed this matter and it must be known that it is KAFA which actually owes FAM and FMLLP a sum of about RM430,000.
"The amount owed by KAFA to FAM and FMLLP includes unpaid wages of the side's former foreign players which were settled by FAM in 2016 after KAFA requested FAM's assistance in providing an advance payment, fines for disciplinary cases as well as outstanding ticket levy debt still owed by KAFA to FMLLP.
"Based on all the above, KAFA will only receive about RM70,000 from the RM500,000 broadcast and commercial rights first payment they should be receiving from FAM and FMLLP, after their debt of RM430,000 is cleared," he added.
Annuar, formerly KAFA chairman, was recently appointed as KAFA advisor due to his firm Alhamra Group's recent sponsorship deal with the Red Warriors.