Fàbregas
Fabregas SLAMMED for Rivaldo-esque playacting in Spain's clash with Italy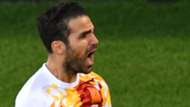 Cesc Fabregas hasn't covered himself in glory after playacting in Spain's clash with Italy.
The Chelsea midfielder went up for a challenge with Graziano Pelle but ended up on the floor holding his face, despite the Italian's arms only hitting the midfielder in the chest.
To make matters worse, Turkish official Cuneyt Cakir booked Pelle for his part in proceedings, but Fabregas slipped away scot-free.
Italy had the last laugh though, as goals from Giorgio Chiellini and Graziano Pelle dumped Spain out of the tournament.
What Fabregas just did was rivaldo-esque. This isn't meant as a compliment. Genuinely disgraceful.

— Philippe Auclair (@PhilippeAuclair) 27 June 2016
Oh for God's sake Fabregas. That was pathetic & embarrassing. Pelle barely touched him & yet Spaniard acted as if he'd been shot! #ITAvsESP

— Ian Stafford (@IanStaffs) 27 June 2016
Play-acting to get a player booked. Fabregas is loathsome. #ESP

— Liz Barratt (@barratt_liz) 27 June 2016
Cesc Fabregas you utter disgrace. I hate that play acting cheating so much. Then we all moan about the referees ruining games. #ITAESP

— Jane Liddiard (@Janelid) 27 June 2016
Just when you think Fabregas couldn't sink any lower

— Michelle (@SheBeShelly) 27 June 2016
Roy Keane sees the replay of the latest attempt on Cesc Fabregas's life. pic.twitter.com/PaAMj40gmL

— Danny Kelly (@dannykellywords) 27 June 2016
fabregas wants slapping for that #ITAvSPA

— Danny Connor (@d4nnyconnor) 27 June 2016
Fabregas is a clown

— Kieron. (@itsKdott) 27 June 2016
Spain reverting to diving and cheating. Fabregas an absolute fraudster.

— Ian M (@Marriotti67) 27 June 2016
Two sides of Spanish football - Fabregas cheating, De Gea world class

— blueska (@originalblueska) 27 June 2016