Real Madrid
EXTRA TIME: Watch Golden Arrows watching Real Madrid in Spain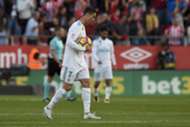 Not often. Okay, so Golden Arrows are not on the field playing, but how often do you see a PSL club in the stands? 
Not often either. The Lamontville club has stars in their eyes. Watch them enjoying the moment, taking videos of the game on the way to the stadium and from the stands.
The KwaZulu-Natal club was not forgotten either. You can even see Arrows players getting interviewed at the game.
UNFORGETTABLE
Full Time : Real Madrid 6 - 3 Girona.
They knew we were coming as @goldenarrowsfc1 were treated to a footballing feast. FOUR goals by CR7 , what a night 🇿🇦>🇪🇸#Asidlali #ArrowsAbroad #LaLiga pic.twitter.com/wFsJKc9UD4

— Asidlali (@Asidlali) March 18, 2018
Golden Arrows at Real Madrid vs Girona, La Liga Live https://t.co/6olCHlBNFt

— Asidlali (@Asidlali) March 18, 2018
Pitch side seats at the Santiago bernabeu #Asidlali #AbafanaBes'thende pic.twitter.com/Hg8vyj0cpW

— Golden Arrows FC (@goldenarrowsfc1) March 18, 2018
Our captain getting interviewed by Real Madrid tv at half time, talking about our experience in Spain @Asidlali @OfficialPSL pic.twitter.com/R0lZNbZBVd

— Golden Arrows FC (@goldenarrowsfc1) March 18, 2018
WHAT A NIGHT!
The team are still buzzing after witnessing a truly spectacular match between Real Madrid and Girona last night 
We've just wrapped up breakfast and will be heading for our first match of the tour against Rayo Vallecano in a few hours#Asidlali #ArrowsAbroad pic.twitter.com/h8UZBzG6iP

— Asidlali (@Asidlali) March 19, 2018
Santiago bernabeu here we come! On our way to the stadium to watch Real Madrid vs Girona pic.twitter.com/oHtbux8xCf

— Golden Arrows FC (@goldenarrowsfc1) March 18, 2018