South Africa
EXTRA TIME: How Bafana fans reacted to the disappointing draw against Seychelles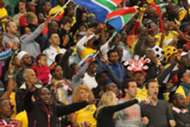 When Bafana Bafana beat Seychelles 6-0 in South Africa, the supporters were cautious not to get too excited about the fantastic result.
Many pointed out that Seychelles were easy to beat. Fans then expected South Africa to win easily away from home too. 
Bafana Bafana's official Twitter posted photos of the team relaxing on the beach in Seychelles a day before the away game, and those holiday type pictures may come back to haunt coach Stuart Baxter and his men.
Many fans are criticial of their attitude and expressed their disappointment with South Africa's inability to score against the minnows in the second game on Tuesday.
You can read all the Twitter reaction below.
9 mins remain and useless Bafana Bafana has failed to score against Seychelles that they beat 6 nil on Saturday. This is why   pic.twitter.com/itruHRDQCP

— Cam (@CamModisane) October 16, 2018
Well done to Bafana Bafana for their beautiful Instagram and Twitter pics on the beach in Seychelles in the past few fays. However I'm sure the country and the fans would have preferred less pics and likes and a win on the pitch rather. Pathetic  #BafanaBafana #AFCON2019

— Joseph Bertrand (@JoBertrand19) October 16, 2018
Baxter and Bafana going to bottle the easiest AFCON Qualifing route of all time. 24/53 teams qualify. Unbelievable.

— Gastro (@Gastro_o) October 16, 2018
We celebrated Bafana's biggest win ever in the rain on Saturday. Just four days later it's back to the reality of whipping out calculators to see what we need to qualify 

— Nkareng Matshe (@Nkareng) October 16, 2018
Am I surprised at the Bafana #AFCON2019Q result?

Look Rob, the man who celebrates because the house clock is correct at 6am (when he goes to work) & 6pm (when he comes home) must ask his family why they are not joining in the celebrations.

I hope you understand.. @robertmarawa

— Steve NOT Komphela (@BigWordKomphela) October 16, 2018
Moral of the story for Bafana Bafana:

'It is better to win 6 games 1-0 than to win 1 game 6-0.' https://t.co/BLtqOOhXRY

— Iron duke Jr. (@Iron_Duke89) October 16, 2018
Bafana need 4 points to qualify from 3 games. This is our 33rd away Qualifying game. Record
P 32 W 12 D 11 L 9
Overall record in AFCON qualifiers is P 65 W 28 L13 D 24
BAFANA Lost 1 game in the past 7 qualifiers away from home in 2017 to Mauritania. SHUPRAPAPAPAPA #spirit

— baba mthethwa (@hothaata) October 16, 2018
I like Bafana Bafana it's called chilling before playing.They enjoyed Seychelles and briefly forgot the pitch pic.twitter.com/shJmzZE2o0

— Collins Okinyo (@bedjosessien) October 16, 2018
The Bafana Bafana that played today Is the bafana bafana we know...

— official_ (@skhumbi) October 16, 2018
They are done swimming they can come back now
Bafana Bafana is a Joke Fire Baxter and bring back Shakes pic.twitter.com/gEKz72k6FM

— Josias Kaptein Bester ePTA (@josias_bester) October 16, 2018
Bunch of losers... something's never change Bafana Bafana remains trash  pic.twitter.com/4TBPf7H0JQ

— De Black Prince  (@BlackPrince_L) October 16, 2018
To all critics, WE WILL ALWAYS SUPPORT BAFANA BAFANA thina abanye. Salani ninjalo!!! pic.twitter.com/pxrxkmXLo6

— TWINSE, Dlamini (@Lwazneka) October 16, 2018
Tell me something special Stuart Baxter has done since taking over Bafana Bafana even on his first stint without being a salary thief of course. I'll be reading my news paper in the min time pic.twitter.com/4wosDyzgCs

— Trevor Mnini (@trevor_mnini) October 16, 2018
Countries with poor football infrastructure,less budget,no sponsorships,they easily qualify for Afcon.
These one's who are pampered with huge salaries, bonuses,first class flights will stress you to the core !it's a shame! @robertmarawa

— Jay Monokoane (@JayM_Soundz) October 16, 2018