South Africa
EXTRA TIME: Banyana step up preparations for World Cup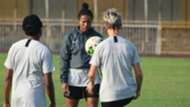 Banyana Banyana fans can follow photographs and a video of their national team training for the Cyprus Womens Cup while still in South Africa.
Finally the South African ladies national team congratulates their top player Thembi Kgatlana for joining Chinese club Phoenix from Beijing. She will also be with the Banyana camp in Cyprus from 27 February to 6 March. South Africa is in Group A with Finland, the
Czech Republic
and Korea DPR.
Head coach Desiree Ellis spoke to Safa Media about the preparations.
"We are back in camp to continue with preparations for the World Cup, and as we approach the start of the Cyprus Cup, this indicates we are edging closer and closer to our maiden World Cup tournament. We will be playing four top quality matches in Cyprus and at the end of the tournament we will not only know how far we are in terms of preparations but also which players will be ready for the World Cup," said Ellis.
"Only 23 players will go to the World Cup, so right now it is a serious battle for places in the final squad. The Cyprus Cup is an opportunity for players to further raise their hands, and this does not mean that those not in the current squad don't stand a chance – until the final squad is announced, everyone still has an opportunity to play in the World Cup, even though we can't have too many changes."
The Fifa Women's World Cup competition will be held between 7 June and 7 July.
During this week Banyana players and followers were also getting behind South African athletics star Caster Semenya and you can also find Tweets about their support.
Good to be back with the National team again. Always look forward to play in the Cyprus Womens Cup tournament. https://t.co/zXoogDfsoq

— Janine Van Wyk (@Janinevanwyk5) February 22, 2019
Great work you doing Riedaks! ????????I know the girls will be ready for the World Cup Boss. You got this??#DankieNgiyabonga https://t.co/r8wCXCWJTd

— Brent Carelse (@brentcarelse) February 21, 2019
Preparations for the @FIFAWWC in June continue as @Banyana_Banyana put in the hard work on their first day of training. They depart for the @CyprusCup on Saturday @SAFA_net #DareToShine @BafanaBafana pic.twitter.com/ZYIeXJk6IH

— Banyana_Banyana (@Banyana_Banyana) February 21, 2019
Can someone make a match between Banyana Banyana and Kaizer Chiefs?

I want to see something. #NedbankCup #HailTheChief pic.twitter.com/hNuzB3BLoF

— Chief Erican (@EricanSA) February 17, 2019
Discrimination in any form is wrong. @caster800m we stand with you.

— Hlompho Kekana (@Hlompho_Kekana) February 22, 2019
Caster was born with higher testosterone levels just like how some people are born with higher IQs. Asking Caster to reduce her testosterone levels is like asking a genius to reduce their IQ to level the playing field for other students. Inequality is a part of life. Get over it!

— Sowellnomics (@Sowellnomics) February 19, 2019
Brilliant cartoon by @CarlosCartoons!!!!????
Powerful images!!

Hope "Lord" @sebcoe enjoyed being a VVVIP at the Chelsea game last night whilst subjecting our VVVIP @caster800m to his dehumanizing process by his @iaaforg!

Anyway ours is a living GOD my "lord!!"#HandsoffCAster https://t.co/Qy1P3hUDG4

— robertmarawa (@robertmarawa) February 22, 2019
Congratulations to @Banyana_Banyana forward @KgatlanaJnr11 who has penned a 1-year deal with Beijing BG Phoenix FC that plays in the Chinese Women's Super League. She joins the side after the Cyprus Women's Cup @SAFA_net @SasolLeague @SasolSA #limitless @BafanaBafana pic.twitter.com/lKKxSnxLhn

— Banyana_Banyana (@Banyana_Banyana) February 22, 2019