Manchester City
Expectation in the air again as Guardiola's Man City rout Palace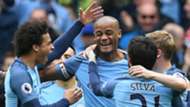 ---
COMMENT
---
It was the type of hammering Manchester City had been threatening to dish out in countless games this season, and while it may have come too late to go towards delivering a title, the 5-0 thrashing of Crystal Palace may yet prove to be a milestone in Pep Guardiola's debut campaign.
This was the type of performance expected of City last July, in those heady summer days when Guardiola was unveiled to thousands of fans and talk turned not just to winning titles but a new era of English football.
Guardiola knew it would not be quite so straightforward and, as expectation levels rose to what would eventually prove to be unreasonable levels, he played the role of humble newcomer, urging patience.
As he sat in a smart grey suit, clearly uncomfortable with the amount of attention he was afforded, he insisted he was "not here to change absolutely anything" when it came to the style of football on these shores, and he talked of his excitement at the prospect of locking horns with "Big Sam", as he called him, with Sunderland set to visit the Etihad Stadium to kick off the Catalan's reign.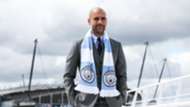 But Allardyce would not take a team to the Etihad until the final weeks of the season, highlighting how so much can change in a relatively short period of time. Between Guardiola's first City press conference and the Blues' meeting with Crystal Palace on Saturday, Allardyce had been hired as England manager, embroiled in scandal, fired and parachuted into new employment. Sunderland, the club he left, appointed David Moyes and got relegated.
Much has changed at City, too. After 10 consecutive victories to start the season the early optimism began to wane in the autumn and has never really returned.
There will be no trophies for Guardiola this season, the first time that has happened in his managerial career. If you were to read some accounts of his first season here you would think he was the one caught in a compromising situation, his credibility in tatters.
In reality he has had difficulty implementing a style of football on a squad ill prepared to do what the club, not just the manager, wants them to do. Guardiola is not perfect, it turns out, but for all of City's struggles in recent weeks there is hope that things will be better. Much better.
Last Sunday's draw at Middlesbrough was worrying, given the Catalan picked a system which seemed doomed to failure as soon as it was made public an hour before kick-off. So many of City's issues have been down to individual failings but at the Riverside Stadium Guardiola's thinking was seriously called into question, perhaps for the first time.
But at the end of a week in which Guardiola's biographer, Marti Perarnau, revealed the Catalan does not expect his philosophy to really take hold until well into 2018, City delivered the kind of performance expected of them back in the summer.
This was the blueprint of the Guardiola model. Boosted by an early goal - how few of them there have been this season - courtesy of the imperial David Silva, City dominated much of the first half, either stroking the ball around probing for openings, or tearing forward on the break.
Familiar failings - a lack of killer instinct in the opposition box and some indecisiveness in their own - ensured Palace were never quite out of it, despite Allardyce's side trailing 1-0 at the break.
But City turned the screw after half-time and stamped their authority on a game in a way that they have not managed for many months. Vincent Kompany's emphatic finish - surely as popular a goal as will be scored here all season - killed off the visitors and laid the groundwork for a rout.
Kevin De Bruyne set up the captain for the second and then got in on the act himself. Guardiola has lamented publicly and privately that neither Silva nor De Bruyne, as important and as talented as they are, do not score enough goals, but here we saw what a difference they can make. As well as pulling the strings and dictating the game, they popped up in the right areas to make telling contributions.
Raheem Sterling seems to be in one of his periods of low confidence and he received plenty of verbal volleys from Guardiola during the match, but he added a fourth, providing a further reminder of what could have been this season if the attacking midfielders had chipped in with the number of goals expected of them.
Even Nicolas Otamendi, who has not found the net in around 18 months, headed home at the death to make it 5-0.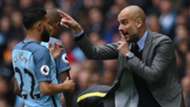 At last, the goals were coming from all over the pitch. At last, City were at last playing the Guardiola way, the way many expected would become the norm back in July as the Catalan posed for photos around the Etihad Campus.
It may have taken a few months and there may be a long way to go yet, but the mood around the Etihad has been transformed in the space of 90 extremely accomplished minutes of football.
Guardiola even dusted down that grey suit for the occasion. There is a whiff of expectation in the air again.