Bundesliga
Eternal ex-Real Madrid & Bayern star Ze Roberto still going strong - at 42!
---
COMMENT
---
Brazilian football is a gruelling challenge for any player. Between the state championship, Serie A, cup commitments and a potential Copa Libertadores or Sudamericana campaign teams can play up to 70 or even 80 games a season, meaning almost 11 months of the year are spent slogging up and down the immense nation and beyond. 
So spare a thought for Ze Roberto, who is still producing the goods for one of the country's top sides at the grand old age of 42. What's more, the former Bayer Leverkusen, Bayern Munich and Real Madrid star shows no sign of slowing down even with more than 1000 professional games under his belt. 
When Ze Roberto signed for Palmeiras back in 2014 it was difficult to see the move as anything other than a last payday before his inevitable retirement. The veteran had already turned 40 and had been released from his contract by Serie A rivals Gremio, despite winning a place in the prestigious Best Serie A XI organised by Placar magazine. But he made an instant impact at the Sao Paulo club, helping the Verdao to the Copa do Brasil title in his first season. The best, however, was yet to come. 
Argentina just 'normal' without Messi - Riquelme
The old Brazil international, veteran of two World Cup campaigns, proved the perfect mentor on the field for young Gabriel Jesus in 2016, and the pair were decisive in Palmeiras' first national title since 1994. It was the 19th major crown of a career which has spanned 11 clubs, four countries and three continents, and which continues into its 23rd season still at the very top of South American football. For Ze Roberto there would be no fairytale ending with Serie A in the bag; he wants more, and is determined to land the big prize. At the end of last year he renewed his Palmeiras deal for another season, as the club go all out for what would be their only Libertadores title in history.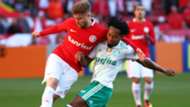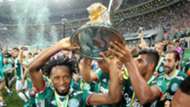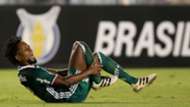 What is the wily old wideman's secret? It is true that as the years have passed Ze Roberto's game has necessarily changed with the times. The dynamic winger that was unstoppable down the left for Bayern is gone; now you are more likely to see him on the left side of defence, pushing forward when necessary, or else anchoring the midfield in front of the back four. Nevertheless, he is still playing at an age where the vast majority of players - even the evergreen Rogerio Ceni, who retired at 42 after more than two decades in goal for Sao Paulo, and now coaches his beloved Tricolor - have hung up their boots. 
The key, then, has been avoiding the very pitfalls that have driven some of Brazil's finest players, from Ronaldinho to Adriano, into premature decline. "I do not have any vices. I do not drink alcohol, I do not smoke, I eat very well, I sleep well," he explained to DPA in an interview held in 2016. 
"I have my family, which gives me the best security. I do not have the same speed I had 20 years ago, so I use my experience. If at 41, almost 42, I still play at left-back, one of the most demanding positions, at the level I am playing now I could still be in the Bundesliga, no doubt about it." 
Above all, Ze Roberto's career is a testament to his incredible consistency and application on the pitch. When he moved to Real Madrid at the tender age of 23 he took on the number of the departed Luis Enrique, who was on the way to becoming a legend on the other side of the great Spanish divide at Camp Nou. The Brazilian had few chances to shine at the Santiago Bernabeu, but nevertheless played his part in delivering La Liga and the Champions League in his one season at the club. After a short spell back home on loan he then found his spiritual European home in Germany. 
With the prodigiously talented winger torturing defenders up and down the Bundesliga, Bayer Leverkusen enjoyed one of the finest spells in their history. The club finished runners-up twice in his four seasons at the club, and also battled to a Champions League final where only the Galacticos of Real Madrid, complete with the likes of Roberto Carlos, Zinedine Zidane, Luis Figo and Raul, ended their dreams with a 2-1 victory.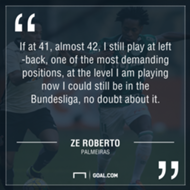 That Leverkusen team proved a fruitful shop window for teams across Europe. Ze Roberto's great partner-in-crime in the final third, Dimitar Berbatov, sauntered over to Tottenham and later Manchester United, while Bundesliga giants Bayern Munich were paying special attention. No less than three Bayer players, the winger himself, compatriot Lucio and the great Michael Ballack, would end up in Bavaria, winning four Bundesliga titles and establishing that side in the annals of Die Roten history. 
Convicted murderer Bruno celebrates football return
On the international front, Ze Roberto always had to contend with a formidable obstacle. He was in direct competition for much of his career with none other than Roberto Carlos, and while he made 84 appearances for the Selecao and featured in two World Cups he failed to make the cut for 2002's triumph in Japan and South Korea. But even so, his packed trophy cabinet still boasts two Confederations Cup gongs and two Copas America, and could still grow if Palmeiras repeat the form that took them to an unassailable title bid in 2016. 
The Brazilians' Libertadores campaign began on a low-key note with a 1-1 draw away to Atletico Tucuman. On Wednesday Allianz Parque welcomes back its heroes as they host Penarol of Montevideo, a game in which they will start as overwhelming favourites. 
From Juan Arango to Fabricio Coloccini and even returning Estudiantes hero Juan Sebastian Veron, the 2017 Copa Libertadores has plenty of familiar faces in the twilight of their careers on display. But Ze Roberto stands out for his consistency and unbeatable energy well into his fifth decade, and will be crucial to the Verdao's continental aspirations. An eternal presence bombing down the left, he will be desperate to crown it all with glory in the Copa - although nobody should bet against the star continuing in the game into 2018 and beyond.