CAF Champions League
Esperance frowns at Machakos Stadium's 'shitty land'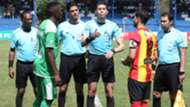 The playing surface at Kenyatta Stadium in Machakos is 'shitty', according to Esperance de Tunis.
The Tunis side were held to a 0-0 draw by Gor Mahia in a Caf Champions League first leg match played on Wednesday, but the visitors took issues with the venue which they termed as 'Shitty Land'.
"Kapoor comes out with an injury. Martels coming into play. Shitty land," Esperance vented in a tweet.
The controversial Tweet has since been deleted.
But while Esperance concentrated on the playing surface, Gor Mahia coach, Dylan Kerr, meanwhile, blamed the visitors' for their anti-football antics after the former Africa champions opted for s defensive and time-wasting tactics.
"Esperance came for a draw. They used time-wasting tactics to frustrate us because they had come for a draw.
"It is something that I am not happy about; especially their goalkeeper who on multiple occasions took a lot of time to take his goal kicks and the referee was just there."
The return leg will be played on March 17 in Tunisia.