Arsène Wenger
Embattled Wenger has not lost control of the Arsenal dressing-room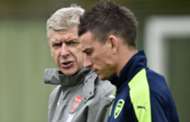 They may be struggling to perform on the pitch of late but Arsenal's players have continually backed manager Arsene Wenger this season. The Gunners boss has seen criticism thrown his way from large numbers of supporters on social media after two consecutive defeats by Watford and Chelsea appeared to have ended the club's title challenge.
What's happened to Thomas Muller?
Arsenal have not won the Premier League in 12 years and that barren run looks set to continue this season unless they can overcome the 12-point deficit to league leaders Chelsea. While divisions increasingly mount against the manager, it is the playing staff who remain united behind the long-serving Frenchman, who marked 20 years in charge of the club back in October.
The likes of Mesut Ozil, Theo Walcott and Laurent Koscielny have all backed the manager since the start of the season. Ozil in particular, as exclusively revealed by Goal in October, wants to know that Wenger will stay before he puts pen to paper on a new contract.
While discontent among the fans looks set to put pressure on the manager, who sees his current deal expires this summer, it is the players on the pitch who arguably have the biggest influence on what will happen in the future. Below are the stars who have stood up for Wenger in recent weeks, in their own words.
---
LAURENT KOSCIELNY
---
"You may say that we haven't won the title for a long time but he has not just built players, he's built men too.
Aguero is right to fear for his future
"Every player who has played for Arsenal has grown here and has become a man. It's a big number [of players]. For me and the others, it's a good opportunity to be with him and learn from him.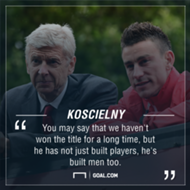 "He's passionate about football. He loves football and he loves to watch his team play well with the ball. That's why he's here again after 20 years.
"Along with a lot of people, he's helped this club grow with a new stadium, a new training ground, and he built the platform for us to compete for the Premier League and Champions League every year."
---
MESUT OZIL
---
"The club knows that I am here most of all because of Arsene Wenger. He is the one who signed me and he is the one whose trust I have. The club also knows that I want to be clear what the manager is going to [do in the future]."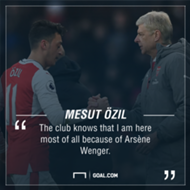 ---
THEO WALCOTT
---
"He did a speech the other day. I won't be able to do the speech because it was that good. It genuinely reminded me of that film 'Any Given Sunday' and I actually said that to him.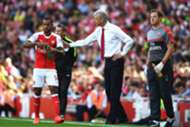 "I was a bit embarrassed and didn't know if he'd seen the film but he showed his passion and how long it's been since we've won the title. He wants it like all of his players but you can tell he really wants it which is really good to see."
---
SHKODRAN MUSTAFI
---
"The players are on the pitch. We blame ourselves before we blame the manager.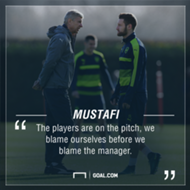 "Personally I think the first thing you do is blame yourself. The most important thing is to look what you have done wrong in the game. Then blame others. We have to take that responsibility and then answer."