Premier League
Elmina Sharks boss Acheampong unhappy with 'blunt' strikers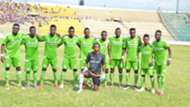 Elmina Sharks coach Yaw Acheampong has hit out at his strikers following their goalless draw against Aduana Stars in the Ghana Premier League on Sunday.
Following a defeat on opening day against Dreams FC, the Elmina-based club were aiming to pick their first win in the campaign at home but Benjamin Tweneboah and Felix Addo fluffed several opportunities that came their way.
"I think we had a good game and could have won but my players wasted all the chances," Acheampong said.
"It's important to start the season on high note but if things don't go as planned, a coach will definitely become unhappy. We need good conversion not this blunt attacking style. We need to convert more of the chances we will create in subsequent fixtures before we complicate situations.
"If we don't score and continue to drop points, it is obvious we will have to battle other clubs for survival and we don't want that situation again," he added.
Amid the missed opportunities, Sharks midfielder Ebo Mends, who was named man of the match, believes the referee's decision to ignore their penalty claims also played a role in their stalemate.
"On my part, I'm very disappointed with the draw but you can't analyse the game and leave out the referee," he said.
"He had some of his decisions wrong which affected us especially the penalty claims he ignored. He should have at least awarded us one penalty and that could've changed the storyline of this game," he added.
Sharks will travel to the Golden City Park in Berekum on Wednesday to play Berekum Chelsea on matchday three.