Africa Women Cup of Nations
Ellis and South Africa leaving no stone unturned ahead of Awcon semi-final clash with Mali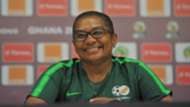 South Africa coach Desiree Ellis says her outfit are not underrating Mali in any way ahead of their semi-final tie at the ongoing Africa Women Cup of Nations tournament in Ghana on Tuesday.
The two sides are set to battle it out in Accra for not only a place in Saturday's final but also a qualification ticket for next year's Fifa Women's World Cup.
The Banyana Banyana have been tipped by many to come out of Tuesday's showdown on top following their outstanding performance in the group stage.
"The semi-finals against Mali is an all final and our thoughts are going to be the same. We are not underestimating any team," Ellis said at the pre-match conference on Monday.
"They are not as mean. They kicked out hosts Ghana who are a competitive side and that tells a lot about their quality.
"We have to analyse them really well and the most important thing is that we stick to our plan. We have to perform same way we did against Nigeria to realise our goal and that's to qualify for the World Cup.
"Each and every player was on top of the game from the beginning to the end. It is going to take that type of performance and make sure we don't underrate the Malians."
South Africa beat reigning champions Nigeria and Equatorial Guinea 1-0 and 7-1 respectively before being held to a 1-1 draw in their last group game, while Mali, having lost 2-1 to Cameroon in their opener, stunned Ghana 1-0 before dispatching Algeria 3-2 on Friday.
"We are preparing very well for the game against South Africa. We are keeping our composure and seriousness in place for the game," said Mali coach Mohamed Saloum Houssein.
"Every coach aims to go far with the team they possess. Some didn't believe in this but I have worked and toiled so far with my team to get this far.
"We know what it means to be in the semi-finals of the tournament. Statistics will definitely say South Africa are better than Mali but football is played within ninety minutes.
"Until it is over you can't declare a winner. We did our best even though playing against Ghana wasn't easy but once more I thank God for guiding us to this stage."
The winner of the South Africa vs. Mali fixture will set up a final date with the winner of the second semi-final between Cameroon and Nigeria.