CAF Confederation Cup
Editorial Q & A: Caf Confederation Cup final was a poor advert for football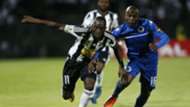 SuperSport United failed to overturn a 2-1 deficit against continental powerhouses TP Mazembe in the Caf Confederation Cup final this past weekend.
It was a rather dull andd unimaginative performance by the Tshwane-based outfit who truly punched above their weight throughout the 2017 edition of the tournament, and in an effort to break down and dissect the key talking points of the encounter, journalist Yusuf Variava spoke to Goal South Africa editor Ignat Manjoo who shed some light on where it all went wrong for SuperSport.
YV: While there has been so much hope and optimism surrounding SuperSport's maiden Caf final run, Matsatsantsa eventually went out on a whimper. What were your thoughts on the final in Atteridgeville?
IM: Firstly, let me say that the second leg was very disappointing, not just as a South African viewer of the final, but it was disappointing in the name of football. I saw more TP Mazembe players fall to the ground and waste time, than attempt to do anything useful with the ball. Now, this type of time wasting has been in the game for decades but something has to be done to make sure it's not overdone.
YV: Go on… 
IM: On top of that SuperSport United only got four minutes of injury time and the whistle was blown a few seconds before that time was up. So, I feel for United that they couldn't get any type of rhythm going due to the breakages. I'm not sure to what extent it harmed their natural game, or to what extent it was nerves and their inability to handle the pressure... because if they got that goal then they'd be lifting the Cup. TP Mazembe's gamesmanship was poor, but then United's ability on the ball was also awful. Whenever they got the ball they seemed to panic into desperate long balls that went nowhere. In these type of situations, the obvious tactic is to keep possession, move it around and patiently wait for the opening because with the visitors sitting back there's not going to be any space for a long ball to break into.
YV: But was Eric Tinkler's reaction post-match justified where he hit out at the officials?  
IM: Yes, I'm all for coaches to express themselves... it's up to the associations to see if they're breaking any rules but from the media's perspective, we want to know what the players and coaches are really feeling. It's nothing new in Caf football. Even Stanley Matthews didn't hold back in his interview that we published.
YV: But tactically SuperSport did look inept at times especially in the first 30 minutes, would you agree?
IM: I think the main problem was game intelligence, the way the players individually threw away possession. Their balls were going nowhere. I haven't seen such a poor standard of playmaking even in the NFD, and this was a Caf final. It was a poor advert for the competition. TP Mazembe got the job done with their tricks, but I believe if you look at how the visitors utilized the ball, the few times that they did, their quality was superior but you'd also expect that from a team that's dominated Caf in recent years. So, despite that, United did well but I'd say that the game was there for the taking and the players didn't get the job done.
Manjoo then decided to put the question about tactics to Variava. 
IM: What did you think of Tinkler's tactics?
YV: I think that Tinkler didn't expect Mazembe to start the way they did. Their high pressing game also forced SuperSport onto the back foot early which neutralised their short passing game particularly in the first half, but this is where Tinkler needed to be clever and box smart. Mazembe were fatiguing and Tinkler should have opted for a more direct approach, utilising the pace of Thuso Phala and Aubrey Modiba on the wings to stretch the play. Also, the substitution of Jeremy Brockie late in the second half raised some questions considering that he is the tournament's top scorer. Tinkler should have instead sacrificed a defender or another defensive midfielder, but this is all said in hindsight.
IM: Yes, I don't know why he substituted Brockie. I think the visitors got to them psychologically. Thuso Phala cracked and got himself sent off. You often find when such teams remarkably reach a final, that the final could be their worst showing as the players are not used to handling the pressure for such a huge once-off game.
IM: To what extent do you think injuries played a role in the two legs?
YV: Certainly, a player like Thabo Mnyamane or Teboho Mokoena could have offered the home side something a little extra upfront, but in all fairness it didn't play a massive role. Credit also must go to Tinkler whose faith in the young Sipho Mbule saw him shine which can only do wonders for his development.
IM: Yes, that's true. So, what do you think of Matthews interview where he says the team made a R3 million loss and won't be fielding their strongest line-up in Caf's early rounds again?
YV: It's a catch 22 situation. At the end of the day, football is a business and while as a football fan you always want SA teams to do well in Africa, the stark reality is that it comes at a cost whether it might be financially or even the effects that it will have on the players in the aftermath. So, I understand his logic after all did they not do the same thing this year? I don't see anything wrong with playing a weakened side if they are traveling to Gabon or Comoros. As long as the players that get onto the field are capable of doing the job that's all that matters.
IM: Continue...
YV: But it should never be forgotten that the prestige of continental football is far greater than the financial ramifications, but like I said there are two sides to the cherry.
IM: My response though, is that even a loss of R3 million to reach the final is a sacrifice worth making, when you take into account the experience gained by these players. SuperSport United, Sundowns and Orlando Pirates' run in Caf is what improved our Bafana Bafana players performances away from home in important qualifiers. Without that South Africa would be even worse off than we already are, because our players are not getting the experience in Europe that our rivals have. PSL experience alone is not going to take us anywhere, and we need a plan from the national associations to help clubs with expenses in Africa.
YV: But you have to admit that Caf football does at times hamper South African club's domestic aspirations.
IM: It is clear that Caf commitments are harmfully affecting clubs in the PSL title race, but the increased allocation of SA clubs in future will help balance this. Either all the top teams will have to cope with extra Caf games, or the one or two teams who get knocked out early will have an advantage. I don't want that to happen, but I think it would be interesting if fresher clubs move up the table, which is one of the reasons how Leicester City won the Premier League a year ago. With SuperSport and Sundowns strange schedules, we're already seeing Baroka FC doing this locally.