South Africa
EDITORIAL: Komphela, Micho, Khune - All the talking points in South African football's new season
South Africa Chief Editor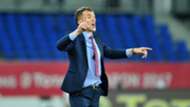 We begin with the biggest talking point, the calling for Steve Komphela's head from fans
I was never convinced Komphela was the right man for Kaizer Chiefs, but I felt that he deserved a chance at one of the better teams in South Africa. Komphela's consistently proven to have a talent of drawing games he should be winning, but it was at the turn of this year that he started to finally enjoy a good run of form. So, let's see if he can properly build on that going forward. You can't write him off after just two league games. I understand that he should be under pressure after also getting knocked out of the MTN8 Cup, but let's see how he does until the end of this year. In the meantime, the Motaung's will need to be preparing behind the scenes, so that they have a proper replacement when the time comes. They don't want to be delaying matters like Orlando Pirates when Bucs were waiting for the right man to be available.
That brings us to the next hot topic: The exit of Kjell Jonevret and the return of Micho Sredojević at Orlando Pirates
Micho was the right man all along. Like he's said himself, the Serbian's gained experience coaching in Africa and now he's ready to do better than his first stint at Pirates. Bucs were in a mess. Everything imploded when Muhsin Ertugral left in controversial circumstances at the beginning of last season. What worried me is that he couldn't reveal why he exited so soon. Whatever it is, Pirates have not been able to dig themselves out of that rut. They made matters worse by selecting Augusto Palacios as the caretaker coach. Palacios may be better coaching youngsters but there are so many superior options for first team football in South Africa. Looking at how well Eric Tinkler's doing in the PSL, Pirates and their fans will be shaking their heads and asking why the former Bafana midfielder didn't have the same success with them? Was it due to fatigue in Caf competitions or was the club just impatient for him to turn it around? After all, taking the club to the Caf Confederation Cup final is not something to gloss over. 
Kjell Jonevret looked too soft for the hot seat in Soweto. I could give you a long analysis of his poor results this year, but let's cut to the chase. Why bring in questionable foreign coaches when we have talented local options now? There's a new generation of coaches coming through after retirement at Bafana Bafana level, and these are the former players who understand our culture, the players and style of football way better than any foreign coach might.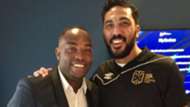 So, you're not surprised with Benni McCarthy's start at Cape Town City?
We can't make conclusions (positive or negative) after a few games. I've seen coaches start with five wins a row (in other countries) and then go on to get sacked by the end of the season. All I can say for now is that without experience, there was the danger that if Benni started with a few losses then the pressure would be enormous and questions would've been asked. Was Benni a risk worth taking? Cape Town City is a relatively new club and Benni McCarthy is a new coach working in his home town. It's a match made in heaven for him. He doesn't have the pressure of immediate results and trophies as there would've been at Pirates. We know he wanted to takeover from Tinkler and Ertugral at Bucs. Now, he's taken over from Tinkler at City. We didn't know anything about Benni as a coach (so it would've been unfair to judge him without any basis). Roll on the next few months and it promises to be an interesting experience at Cape Town City. Despite always mentioning the impact of Jose Mourinho in his career, I liked that Benni underlined he is his own person and will be playing football his own way. Forming his own identity will be key to his success. We've often seen great players or assistants who've learnt under the likes of Alex Ferguson, fail to apply their lessons as head coaches themselves. 
All I can take from McCarthy so far is that from all his interviews and television presentations, he's a super, likeable personality and it doesn't hurt for that positive energy to rub off on the players and media. City's charges will be highly motivated to play for South Africa's greatest legend. One of the biggest problems coaches face in the PSL is getting their strikers to convert a higher percentage of opportunities that come their way. Surely, SA's most natural finisher in history will be able to find an answer to that problem on the training pitch? Let's see.
On the expanded Caf Champions League with South Africa boasting four teams next season
With the exception of Mamelodi Sundowns being able to beef up their squad with high calibre players on their bench, I don't think any other local team is capable to compete for both the PSL title and Caf Champions League at the same time. The Brazilians came close to achieving that last season, but were pipped at the end by a fresher Bidvest Wits outfit. One of the many factors I like about having four SA clubs in the competition is that this disadvantage will even out, provided that all four teams progress to the group stage next year. It's not just in South Africa, but in highly intense competitions like the English Premier League we are witnessing that when we have more than four brilliant teams, a team from outside continental competition has a distinct advantage. So, we saw Chelsea winning the league last season instead of Tottenham and Manchester City. Just like Arsenal in the Europa League, the likes of SuperSport United will need a good run in the Caf Confederation Cup next year. Otherwise SSU could be the favourites next season. Anyway, let's take this one season at a time and discuss this situation further when the time comes.
On refereeing scandals in the lower leagues
SA should be very embarrassed that after the controversial 2010 Fifa World Cup friendly match-fixing/soft penalties saga, that we are still struggling to sort out the problem of corrupt referees. At least there's no reports of scandals in the PSL, but the new Safa head of referees Ian McLeod has to make sure we are very careful to avoid losing sight of any Elephants in the living room. Let's get rid of the cause in the lower leagues before its ugly head rises in the top flight. Like everyone else, I want to see players and clubs rewarded on merit to progress from the lower leagues to the NFD, the PSL and international level. Team franchizes (such as AmaZulu) can get bought every few years, but it shouldn't be the norm in South Africa. In the long run this could hurt proper development and the investment in facilities in regions that sorely need it. To unearth gems, it's not about buying franchizes and picking up the same players in a merry-go-round the league. I want to see new clubs rise from the lower leagues and young players coming through the ranks with them. 
Finally home from the hospital...thank you all so much for the get well wishes  I love and appreciate you all  #GodIsGreat  pic.twitter.com/BwJQVBddzP

— IIKHUNE3216 (@IIKHUNE_32_16) August 24, 2017
On Itumeleng Khune's absence for Bafana Bafana
I'm very concerned Itu's dropped out of the South Africa squad due to illness. The two Fifa World Cup qualifiers against Cape Verde could be instrumental in taking us to Russia 2018. Two victories are doable and we must aim at qualifying with one game to go. We shouldn't be going to Senegal hoping to avoid defeat in our last game. We need six points against Cape Verde and that means a safe pair of hands. Stopping controversial penalties can make all the difference away from home. 
I don't understand why Shuaib Walters is ignored in the squad, despite the unavailability of Khune and Darren Keet. Ronwen Williams has been a good performer for SuperSport United, but I am not sure if he can impose himself and provide that presence away (on his line and commanding the defenders) when the pressure is on away in Africa. Baxter knows Reyaad Pieterse and he's also brought in Wayne Sandilands, so it remains to be seen who will get the nod against Cape Verde. If selected to start, this may be Ronwen's biggest chance to prove that he's matured since being the rabbit in the headlights in the 5-0 thrashing at home against Brazil in 2014.