Liverpool
Dropping hints: Why Mignolet should make way for Karius sooner rather than later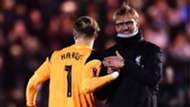 ---
COMMENT
---
Simon Mignolet, well versed in social science, will have read between the lines. Loris Karius, waiting on any sign of opportunity, will have done so as well.
At Melwood on Friday, Jurgen Klopp was asked whether the German will be restored as Liverpool's starting goalkeeper against Tottenham on Saturday following his counterpart's recent failings between the posts.
"No, I have decided nothing in this case," Klopp said. "Obviously, we had not 100 fantastic games in a row, so that involves different players, myself and everything."
Both will have reached the same conclusion after hearing these quotes and digested it differently.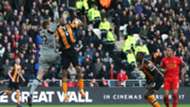 Mignolet will know that the fact there is a call to be made at all is more encouraging news for Karius, and so too will the 23-year-old.
In truth, had the criticism of the summer signing not been so relentless and such a distraction in the aftermath of his costly errors at Bournemouth and against West Ham, he'd still be the club's starting goalkeeper.
For now, Mignolet is set to keep his place for the hosting of Spurs given the delicate situation Liverpool find themselves in, but the question is bound to resurface.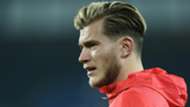 Karius was not removed due to doubts over his ability, but to shield him from an environment that was turning toxic and threatening his development before his Liverpool career had even properly begun.
"I'm not interested in public pressure, but I'm interested in the boy and there's no reason to push him through this situation," Klopp explained of his decision to remove him from the firing line in December.
Given the £4.7 million recruit was signed because he is more suited to the Reds' aggressive approach than Mignolet and is viewed as their long-term No.1, it would make sense for Karius to be given another shot this season should his team-mate continue to err.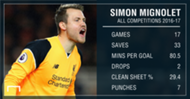 Mignolet has made 166 appearances for Liverpool, which is a large enough sample size from which to draw conclusions on his capabilities as well as suitability for the club.
While he has undoubtedly elevated his game this campaign - the first time he has had proper competition at Anfield since joining from Sunderland in June 2013 - the Belgium international has had nearly four years to make the position unquestionable.
It has been anything but, even when the calibre of deputy has been dire.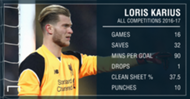 Karius, meanwhile, has played just 16 games in a new country, a different league and after having recovered from a broken bone in his right hand.
He has responded positively to being dropped, "training outstandingly" according to Klopp and showing marked improvement when rotated in for the cup competitions.
The former Mainz goalkeeper was not free of fault in those games, but he is also nowhere near his ceiling.
Liverpool know exactly what they have in Mignolet. Keeping Karius on the bench is preventing them from learning just how much more he has in his locker.