Boca Juniors
Drones, fistfights & wiretaps: Life after Tevez begins in chaotic fashion for Boca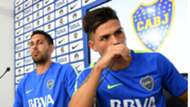 ---
COMMENT
---
After almost three months of inactivity, life without Carlos Tevez begins for Boca Juniors with a must-win fixture away to Banfield. But despite losing their talisman, merely restarting the season at all will come as a relief for the club after a summer that veered from the disastrous to the downright bizarre. 
The protracted crisis in the Argentine Football Association that delayed the resumption of normal service in the Primera Division by almost a month was tough on all teams. Deadlocked over the cancellation of government-backed television deal Futbol para Todos, the top flight was pushed back a further week by a players' strike over unpaid wages that, in some cases, dated back to December 2016. And in Argentina's biggest club, the lack of action on the pitch was accompanied by a series of farcical events that heaped pressure on the current Primera leaders. 
First, club president Daniel Angelici found himself embroiled in a scandal related to wiretaps released by TyC Sports in which the Boca chief was clearly heard pressuring AFA officials into appointing referees of his liking to key games. "Go and speak directly to that kid, [Primera referee German] Delfino, tell him to make as few mistakes as possible because there is a lot on the line for Boca," he ordered then-AFA president Luis Segura ahead of a play-off match to enter the Copa Libertadores against Velez Sarsfield. 
Pep: Xabi Alonso one of best ever
"Don't have any doubt that for this match I am Boca's number one fan," Segura replied. Boca went on to win 1-0, only to see their Libertadores campaign end in acrimony when they were kicked out for a fan's pepper spray attack on River Plate players in the last 16. Angelici, however, was unrepentant, telling a press conference: "I am here to defend the club's interests. It is no coincidence that these wiretaps, that are over two years old, have come out now." 
Worse was to come. In a training session held just a week after Angelici's damning leaks, defenders Jonathan Silva and Juan Manuel Insaurralde were at each other's throats in a vicious fistfight, resolved only when coach Guillermo Barros Schelotto told both pugilists to "get the hell out of here." An uneasy peace was struck in the dressing room, but the embattled giant's image was further questioned by the unedifying scenes. 
Asi fue la pelea entre Insaurralde y Silva, defensores de Boca Juniors... una jornada al rojo vivo #Puñetes pic.twitter.com/gH97MYCVwj

— Tigo Sports Bolivia (@TigoSportsBo) 14 de febrero de 2017
And to top off a difficult pre-season, Barros Schelotto exploded in the week leading up to Saturday's Banfield clash - at a drone! The coach suspected that the craft was being used to spy on his players during training and launched a desperate search for its operator. "I'm not looking to hide anything with closed training sessions, I do it so we can have a little more intimacy and when the press is there you have to be more careful with your football language," Guillermo explained later, betraying his anxiety that the press could stumble on another episode like that involving Silva and Insaurralde. 
"All the same the drone was going around the Bombonera and we were training in Casa Amarilla, I don't think it was spying on us!" 
The backdrop to this nervy start to 2017 is a team that still has not found a satisfactory way to replace Tevez, now in China with Shanghai Shenhua. The former Juventus star played a more withdrawn role than in Europe during his second spell at the Bombonera, doing justice to the No. 10 jersey he chose to inherit from Juan Roman Riquelme to act as a forward-thinking playmaker, as likely to be involved in creating goals as scoring them.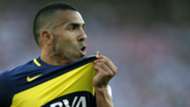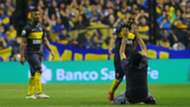 No big name has come in to replace Carlitos before the second half of the season, and Barros Schelotto has chosen to place his faith in the admittedly ample roster of strikers left at Boca. But there is one issue: while the likes of Dario Benedetto, Walter Bou, Cristian Pavon and new recruit Junior Benitez have plenty of ability in front of goal, not one has shown himself as a natural successor to the ex-Argentina international as a viable alternative to play 'in the hole'. 
Friendly defeats against River and Aldosivi pre-season heightened the feeling that Boca would struggle without their lynchpin, although much of the flak landed on young goalkeeper Axel Werner, on loan from Atletico Madrid and thrown into a starting role following a long-term injury to No. 1 Guillermo Sara. The question everyone wants answering is, just how long will they be without Carlitos?
The pretenders to Kante's crown
Inside Boca, the feeling is that Tevez's absence from the Bombonera will be a temporary one. His contract at Shenhua includes a clause that would let him return to his boyhood club after just one year should he fail to adapt to his new life in China, and both Angelici and former Boca president, now President of Argentina Mauricio Macri trust that he will exercise it in time for a hypothetical tilt at the Copa Libertadores in 2018. 
Rumours of an even earlier comeback started to circulate after his very first game in China. Calciomercato assured that Tevez, who in his debut saw Shenhua's Asian Champions League campaign end with defeat and an insipid display, was already sick of his new home and looking to return as soon as possible. His agent was forced to come out and deny the reports, as was coach Gustavo Poyet - "I spoke with Tevez; he is staying", the ex-Chelsea player explained. Even so, it is an inauspicious start for a man hailed as one of the biggest names to set foot in the brave new world that is the Chinese Super League. 
Three points clear at the top of the Primera after 14 games, Boca are in an enviable position as they restart their campaign. There is no doubt that Tevez will be missed sorely, but sulking over his exit and counting down the days for his return is undoubtedly a sure-fire recipe for disaster at the Bombonera. Whether he will return in the future remains to be seen; right now the Xeneize must concentrate in getting the most out of a still extremely strong squad, starting with a victory to finally start 2017 with a bang on Saturday.