England v Iceland
Don't patronise Iceland with your fairy-tale talk - their success is logical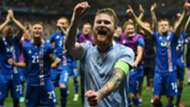 ---

COMMENT
---
Look at the way Aron Gunnarsson – the Iceland captain – led his team and his nation through the famous "Hu!" slow-clap chant at the end of the England game which saw the windswept and rugged North Atlantic island nation reach the last eight of the European Championship. Feel the goose pimples rise. This was not a celebration merely in response to a football match. This was a unifying moment for a group of players and a stand of supporters who are one and the same.
This is a nation where Heimir Hallgrimsson can take your teeth out one day in his day job as a dentist and co-coach this team to victory against England the next. This is a nation in which the same man – Hallgrimsson – will attend a supporters' bar before home matches to reveal the starting XI and discuss tactics. This is an island to which national team players return and train next to children – side by side – in their purpose built indoor domes.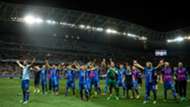 There would appear to be very little room for ego, for individual indulgence among them. There is hard work; there is commitment and – above all – an overriding sense of logic about Iceland's progress. This is their community team, not a thrown-together mishmash of the best individual talents in any given country. The worst thing you can say about Iceland's progress through Euro 2016 so far is that it's a fairy tale. There is no pixie dust, no genie in a bottle and to describe this team as in dream land or on cloud nine is to totally play down the scale of their achievements.
Iceland did not rely on anybody or anything else to beat Austria and England to get them to the Euro 2016 quarter finals, just like they didn't ask for help in dumping the Dutch out at the qualification phase after beating them home and away. Their progress, their relative success to this point, is logical.
The island may only have the population of a small city – 330,000 give or take - but Iceland lose nothing because of that. This is a club team playing international football – with plenty in common with the Celtic side who won the 1967 European Cup featuring a squad of players born within a 50km radius of Glasgow.
The back bone of the squad which eliminated England is supplied by the under-21 team which reached the European Championships for the very first time in 2011. These players have grown together, learned together. The ones who weren't good enough have fallen by the way side and generations from above that age group and beneath it are now forged together as one.
There is nothing like the selection dilemmas that occur in some of the other competing squads. Iceland's players know each other inside out and so do their coaches. This is Iceland, long may they reign. In this respect their small football population - some 20,000 registered players male and female – is a blessing not a curse. There can be no temptation to try out a player with two or three good games under his belt, thereby altering the chemistry in the team. Iceland's players are – by and large – on the radar of the football association from about the age of six and never off it.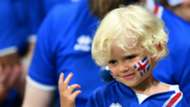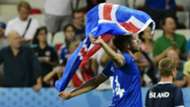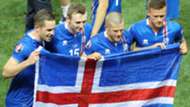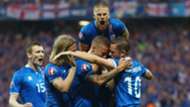 The establishment of all-weather indoor soccer domes since the turn of the century has been well documented. Every player - young, old, fat, thin, male, female, whatever - has access to top-class facilities all year round. Not only that but Iceland, famously, has one UEFA A or B licensed coach per 500 people. In England it's more like one per 10,000. Great facilities and great coaching; reaching this stage is not a surprise, it's inevitable. Quite why English pundits presumed - right up to half time - that their side would triumph is baffling.
When the best Icelandic players among them reach their mid to late teens, they go overseas and learn new systems and how to fend for themselves. There is no full-time professional Icelandic league for them to stay in. If they want to play, they go. And then they come back to play for the national team and represent it proudly.
The population is so small that the players are representing the very community from which they are drawn. There is an intimately close connection between the players on the field and the "12th man" in the stands. Kari Arnason – the defender – reckons he recognises about 50 per cent of the fans in the stadium at Euro 2016. It's estimated that about 10 per cent of the total population set foot in France during these Euros. For context, the same proportion would bring around 30 million Americans.
There is no sense of disconnect between the pitch and the stands that plagues the England team they beat. Those English players have grown rich and remote there and have little in common with the supporters they are representing. Not Iceland. There is something unwieldly and unreliable about the way in which many players get through the selection process for the England national team. Iceland's size and awesome national character mean the process is more streamlined.
The population could be 330,000 like Iceland or 53 million like England but when it comes down to it each coach can only pick 11 men. And in those 11 players any technical planning, any tactical instructions, any motivation, any pride, any sense of camaraderie and hard work is manifested. And that is what Gunnarsson and his team-mates were exemplifying when celebration at the end.
Either you have it or you don't.
Goal journalists are powered by the Samsung Galaxy S7 and Gear 360