Welayta Dicha
We will knock out Yanga at home, boasts Dicha's Geremen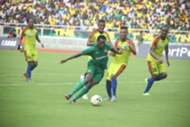 Wolayta Ditcha's Goalkeeper Wond Wosen Geremen has claimed that they still have a chance to turn the results in their favor and qualify into the group stage when they play host to Yanga in the second leg of the CAF Confederation Cup in Soddo, Ethiopia , although he admits that the Jangwani Boys are a "much stronger side".
Yanga took control of the tie after an impressive 2-0 victory in Dar es Salaam seemed to ease pressure for them in the second leg.
Goals scored by Rafael Daud and Emmanuel Martin in each half set the green lights for the Jangwani's outfit to be in the group stage for the second time in three seasons.
Speaking in the post-match conference, Geremen said that Yanga is  a much stronger than their past opponents but they have learnt a lesson that they will use to correct their mistakes in training before the return leg.
He added that, their aim is to play in the group stage for the first time in their debut season in CAF Competitions.
"We will strive to win the next game and we will go the next step, we did not know how Yanga play, but now we know them very well, our aim is to be in the group stage" he said.