eSports
Debunked: Football online vs Football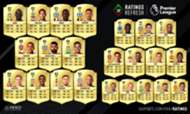 There remains a perception that video games are detrimental to sport, causing children to sit in front of screens for hours on end, thereby taking away precious hours that could be spent playing or practicing sport. You've probably heard it multiple times – a conversation something along the lines of "Fifa should really be encouraging kids to play football rather than endorsing and promoting a video game which makes them sit in front of a screen all day".
While one could forgive a person for thinking along these lines, it seems to ignore the fact that sports organisations earn most of their revenue from broadcasting, which of course, comes from viewers sitting in front of a television screen. What's more, most sports organisations are extremely active on social media, feeding the fuel to the social media age and attracting people to their smartphones. Some teams (MUTV, Chelsea TV, LFC TV) even have their own, 24-hour linear TV channels. Why then, do video games get such a bad rap?
Football Manager 2017: Our guide to creating winning tactics
A couple of years ago, I was sitting in a circle with a group of great people from my sports masters class, trying to think of ideas for our final group project to be delivered at the end of the course. We threw many ideas around but once someone mentioned looking at the effect of video games on sport, we knew we had a winner. As part of the project, we undertook extensive research, surveying over a thousand people who play the Fifa video game. The results were fascinating.
Not only did a high percentage of those who played the videogame play football in real life, but those that played the game the most (5+ hours a week) played football the most, with 38% of avid gamers saying they played football daily, and only 5% saying they never play. Of the casual gamers (0-1 hours a week), only 14% played daily, with 10% saying they never play. While this does not mean that playing the video game directly causes an increase in participation, it shows a clear correlation between those that play the game and participate in the sport. Other studies we looked at found that there is no relationship between body fat percentage and video game use.
Playing the game may have other benefits for the sport too. Our survey also showed that those who spent more hours playing the video game had higher levels of knowledge of the team logos, sponsors and stadia than non-gamers. We even grouped the gamers by the amount of football they watched on TV, to control for exposure therefrom.
Respondents were also asked directly if they believed playing the Fifa video game increased their knowledge of the big 5 leagues (Premier League, Serie A, League 1, Bundesliga and La Liga). 35% of respondents believed that it increased their knowledge "a lot", 48% believed it increased their knowledge "a little bit" and only 17% responding "not at all".
We also canvassed opinions from the sports industry, speaking to representatives of Fifa, European Rugby, GAA, Formula 1, Liverpool FC and many other bodies and the prevailing view was that video games are only of benefit to the sport. In the case of Fifa, the video game itself has been a massive tool for spreading the game in the United States in particular, with many engaging with the game first and then graduating to watching on TV. Again, this does not mean that the sole act of playing a sports video game increases participation, as one would have to control for a myriad of other factors. However, it is logical that some would try the sport itself after an interest has been sparked through the video game.
The football video games you've probably forgotten about
It is likely that there are many people reading this who were first introduced to American Football was through the "Madden" franchise, and who then started watching the sport on TV. If there were more American Football clubs in Europe, perhaps more would have tried out the real sport too.
Similarly, video games can have a massive impact on minority sports. Many will have fond memories of Colin McRae Rally – a game that did wonders for the sport of rally driving. As a result of solely playing the game, I knew all the drivers, their nationalities and which cars they drove. This resulted in me taking more of an interest in the sport itself. 
While the large video game producers like EA, Konami and 2k sports would not view the market as large enough to launch games featuring minority sports, federations of such sports could look towards the mobile gaming market as a cost-effective alternative.
The popularity of video games is increasing year upon year and with the growth of eSports, it will only continue to do so. It's time, therefore, for the wider population to embrace the movement and to realise that sports video games are not detrimental to participation in sport and in fact are more likely to be beneficial.
Colm Ó Méalóid is the COO of Sportego.
Sportego are hosting a Fan Engagement Conference Kilkenny (FECKK), Ireland which takes place on March 29th.
This article was first seen in The Sunday Business Post on 05.03.17