UEFA Champions League
'Dani Alves, you're having a laugh!' - Football world erupts at stunning Juventus strike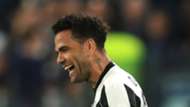 Already well on their way to winning their Champions League tie against Monaco, Juventus added insult to injury thanks to an unreal goal by Dani Alves.
The former Barcelona man latched on to a ball that was punched clear by Daniel Subasic and hit a perfectly-struck volley from just outside the penalty area to give Juve a 2-0 lead in Tuesday's match (4-0 on aggregate).
Juventus Stadium erupted at the audacious strike, as did social media.
What a strike!

The Dani Alves semi-final is complete with a stunning volley! #UCL pic.twitter.com/U6yZ1QMagq

— BT Sport Football (@btsportfootball) May 9, 2017
DANI ALVES!! WHAT.A.HIT

— The F2 (@TheF2) May 9, 2017
Can you retweet your own tweet? Because, damn...bravo, Dani Alves.

— Becky Sauerbrunn (@beckysauerbrunn) May 9, 2017
OH MY F*CKING GOD DANI ALVES YOU ARE HAVING A LAUGH.

— Footy Accumulators (@FootyAccums) May 9, 2017
What a strike! The corner is cleared to the edge of the area where the Juve man is waiting. He crashes a superb volley into the net. #UCL pic.twitter.com/fuZebt03rf

— Champions League (@ChampionsLeague) May 9, 2017
Dani Alves = Vandalise. "That goal was a crime"

— Footballer Anagrams (@StableFloor) May 9, 2017
Reporter: "Do you miss Dani Alves?"
Barca Fans: pic.twitter.com/gVIwEcW1Sq

— Marcus (@MarcusssK) May 9, 2017
#Juventus play like this and they beat Real Madrid in the final. Simple as that. Dani Alves with a cracking volley to put them 2-0 up.

— Robin Bairner (@RBairner) May 9, 2017
An MLS team can sign Dani Alves when he's 40 and I'll be cool with it.

— Jason Davis (@davisjsn) May 9, 2017
Juventus will face either Atletico Madrid or Real Madrid in the Champions League final on June 3, with the latter Spanish side winning 3-0 after 90 of the 180 minutes having been played.