African All Stars
Crystal Palace boss Roy Hodgson provides injury update on Wilfried Zaha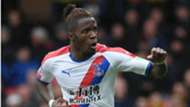 Crystal Palace manager Roy Hodgson has revealed that Wilfried Zaha could play a part when they clash with Everton on Sunday.
The forward returned early from international duty with Cote d'Ivoire after suffering a thigh strain in their 4-0 thrashing of Central African Republic in an African Cup of Nations qualifiers on Friday, missing the second leg on Wednesday.
Since his return, the former Manchester United player has not trained with the side but the manager is hoping that he could be available for their tie at the Goodison Park, provided he trains on Saturday.
"It's good news that he's close enough to be assessed to see if he'll be fit enough to play, but you're taking into areas of sports science and medicine that I'm not comfortable talking about," Hodgson said in a pre-match conference.
"My information is that he hasn't trained with us since the injury but they're hoping he'll be able to train tomorrow and if he does, I guess he'll be available to play but I won't know that tomorrow.
"I don't know where the information that this is a two-month injury came from, but we've never been mindful that it would take such a long time.
 It's a strain which players get on a fairly regular basis and some recover quicker than others. Wilf is a quicker than normal recoverer but it will depend on the extent of the injury whether he is a possibility to recover or not."
Zaha has scored three goals and contributed one assist in seven appearances this season and his presence in the tie against Everton will be a huge boost to Palace who are 14th in the log with seven points from eight games.