World Cup
Criticism of 'artist' Ozil is unfair, says Germany team-mate Boateng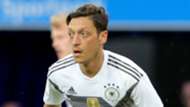 Bayern Munich defender Jerome Boateng has hit out at criticism of Germany team-mate Mesut Ozil.
The playmaker's languid approach has often seen him targeted by critics, and that is again the case after the defending champions crashed out of the 2018 World Cup at the group stage.
Losses to Mexico and South Korea consigned the Germans to their earliest exit since 1938, and they returned home amid a storm of criticism.
Among those most notably targeted was the Arsenal forward, but he has found a supporter in the form of Boateng.
"Everyone has picked out Mesut Ozil, but that's not possible, Mesut is a human," the 29-year-old centre-back told Welt am Sonntag.
"The whole team was in charge of our destiny. We've not managed to play together at this World Cup. We have to blame ourselves."
Boateng explained why he thinks that the former Real Madrid player has been the subject of criticism.
"He's an artist on the ball, not a fighter in the defence like me, so maybe he comes across badly. But that doesn't mean he doesn't want to win or he does it on purpose," Boateng argued.
"It was a difficult situation for him at the end."
While Boateng has confirmed that he will keep going with the national team, Ozil has yet to follow suit and his team-mate did not wish to comment on speculation that he may quit.
"Of course we've spoken," the Bayern man said. "Like all of us, Mesut is extremely disappointed and sad that the World Cup came to an end, but I can hardly put myself in his shoes. We've all got to process it."
Ozil has played 92 times for Germany and scored 23 goals, with the highlight being World Cup success four years ago in Brazil.