KPL
Courageous Tusker midfielder condemn Police brutality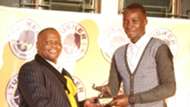 Tusker FC midfielder, Humphrey Mieno is the first Kenyan Premier League player to come out and condemn the ongoing Police brutality in the country.
Mieno who made it to Tusker squad to face Muhoroni Youth this afternoon, added his voice to the recent happening where civilians have reportedly been killed by the Police as they hold protest across the country.
Western part of the country and the Coast have been hit hard by civilian unrest as a section of Kenyan joins in the opposition call for a free and fair election, forcing the Police to use unjustified force on unarmed civilians.
"Up in arms over police brutality...Beating up innocent civilians for exercising their civic and constitutional rights is totally absurd... STOP THE KILLINGS!!! #Matchday," Mieno wrote on his Facebook page, moments before he took to the pitch against Muhoroni in a Kenyan Premier League match.
Despite stepping to the pitch with a heavy heart, Mieno put up a decent show, scoring a goal and an assist in Tusker's win against Muhoroni Youth at Ruaraka Ground.
Kenyan players are not known to express their political or ideological stands openly, especially those that may be perceived to be against authorities.
Last week alone, upto four people were shot dead by the Police in Kisumu and Bondo as they held the protest against the Independent Electoral and Boundaries Commission IEBC.