Goa
'Good to introspect why clubs are hiring foreign coaches,' says Clifford Miranda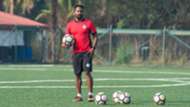 Clifford Miranda is of the opinion that Indian coaches should prove themselves in order to change in the mindset of the club management from preferring foreign managers.
In fact, in the Indian Super League (ISL), the eligibility of a head coach suggests that he needs to possess experience of managing a national side or a top club to make him a marquee manager. 
The I-League also has several foreign coaches, which only suggests very few coaching opportunities in the country's top-tier for Indians. 
However, the assistant coach of FC Goa's developmental and junior sides, Clifford Miranda feels that the influx of foreign coaches in the country is essential. He also mentioned that it is time to reflect upon why Indian coaches are not getting enough importance. 
"The foreign coaches brought about a wave of professionalism on and off the field which the Indian coaches lack. That is the reason (why) I feel they (foreigners) have been taking all the top positions, which is actually good. However, it is also time to introspect why club owners and presidents are hiring foreign coaches," he expressed to Goal.
"So if Indian coaches get the same professionalism, organisation and put the same amount of hard work, I don't see why we won't get the top posts. Of course, the influx of foreign coaches is not only in India but for us, it is a challenge to realise why we are left behind. So we need to work a bit harder with intelligence and dedication and also do a bit of research," the 35-year-old added.
Miranda referred to India U16 head coach Bibiano Fernandes as a "perfect example" while admitting the need for new methods when it comes to coaching the next generations.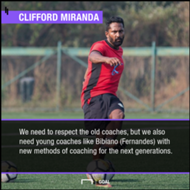 "Look at Bibiano. He is an Indian coach who is a perfect example. So if we as coaches change (for the better), the mindset of the club presidents and owners will start changing in favour of appointing Indian coaches," the former Dempo SC player stated.
"I am hearing some really good things about Bibiano. I would say that he is one of the best upcoming coaches in India because his team has been doing so well. We need to respect the experienced coaches but we also need young coaches like Bibiano with new methods of coaching for the next generations."
It must be noted that former Dempo players Climax Lawrence, Mahesh Gawli or Samir Naik have all taken up coaching. Miranda, also from the same generation, mentions that the experience he gained from playing under coaches has helped him. 
"Climax, Mahesh, Samir and all of us played together at Dempo and we were lucky enough to play under some really good coaches - Indian as well as foreign. The experience that we gained under Bob Houghton, Arthur Papas, Wim Koevermans, Armando Colaco, Savio Madeira and even Sukhvinder Singh and Syed Naeemuddin really helped us.
"It's a mere coincidence in and around the early 2000s that most of the players from Dempo were playing in the national team. And it's normal that some players who retire would take up coaching," he concluded.