Chelsea
Chelsea Women's Karen Carney receives rape and death threats.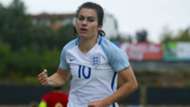 Chelsea
and
England
midfielder Karen Carney scored a penalty against
Fiorentina
in the
Champions League
on Wednesday night helping her West London side to win the game 1-0.
The 31-year-old was later the subject of abuse on the social media platform Instagram as rape and death threats were made to England International.
 
Carney has won 133 caps for England since 2005.

The English FA and Chelsea came out in strong support for Carney and urged Police to do more to stop this kind of online abuse.
The user has since been removed from Instagram.
An FA Statement said: "We provide all our senior England players with training, guidance and support on the use of social media and treat our duty of care in this regard with the utmost importance."
Instagram has a dedicated team who work 24 hours a day reviewing and removing such content which breaks their guidelines.
Male footballers have continuously received online abuse however rape treats are not as common.
Carney won't be the last professional footballer to receive such threats however as the female game grows incidents like this a major concern.
The Metropolitan Police takes allegations of threatening and abusive behaviour very seriously and encourages victims to report these to them.