Chelsea
Chelsea and Conte will struggle in the Champions League unless…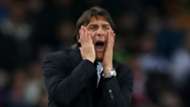 ---
COMMENT
---
Chelsea and Antonio Conte are obliterating the Premier League. Nine points clear in February with 19 wins, 51 goals scored and just 17 conceded from 24 games, it would take a monumental collapse for the Blues to fail to lift the title in May.
Indeed, as the Champions League returns next week, many Chelsea fans will already be looking ahead to next season and dreaming of 2012 all over again.
However, for all his undoubted brilliance as a manager – and this is a man who has put the likes of Pep Guardiola, Jose Mourinho and Jurgen Klopp to shame during his debut campaign in English football - Conte still has a lot to prove on the European club stage.
Madrid halt Barca's Bernabeu dream
Despite utterly dominating Serie A during his three years at Juventus - winning three successive Scudetti, going on a 49-game unbeaten run in the league and breaking the 100-points barrier in his final campaign - Conte struggled badly in Europe.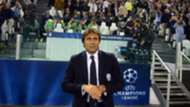 In two seasons of Champions League football, his win-draw-loss record was 6-6-5. He has won just one of his last eight Champions League games and suffered a humiliating group-stage exit to Galatasaray. For a team that boasted the best backline in football and a world-class midfield comprised of Andrea Pirlo, Arturo Vidal and Paul Pogba, clearly Conte was doing something wrong.
His reliance on a three-man defence has been cited as the main reason for his European struggles. Juventus often looked predictable and pedestrian under Conte in their 3-5-2 and they were exposed in the wide areas – most brutally by Bayern Munich, who ran riot in a 4-0 aggregate win over the Bianconeri en route to winning the 2012-13 Champions League.
While formations with three-man backlines can be utilised offensively (by Guardiola and Marcelo Bielsa, for example), Conte favours them for their defensive solidity. However, while 'defences win championships', it is a very different story in European knockout football.
"Over the last 40 years, the Champions League has gone to those who dominate, apart from two or three exceptions," the legendary Arrigo Sacchi, the last coach to retain the European Cup with AC Milan in 1990, recently told La Stampa. "By dominate, I mean that way of taking control of the game and believing in themselves more than the opposition."
Why Martial must escape Mourinho
While it is unfair to label Conte's Chelsea a counter-attacking team – as Mourinho jealously did – it is undeniable that the Italian builds his teams to be physical and well-drilled rather than technical and imaginative. This is well illustrated by the central-midfield partnership of N'Golo Kante and Nemanja Matic, two players with incredible physical qualities but lacking the creativity and artistry of the man they have forced onto the bench, Cesc Fabregas.
Conte's style of play is perfectly suited to the gruelling 'survival of the fittest' dynamic of a league season but, as Sacchi noted, he will need to make Chelsea more expansive to succeed in Europe.
Changing his 3-4-3 formation would bring its own problems, though. After all, this system brought about Chelsea's magnificent 13-game win streak. The 3-4-3 suits many of the first XI, none more so than David Luiz.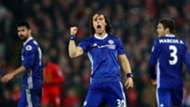 The Brazilian is a world-beater in the sweeper role, where he can read the game and act as a deep-lying playmaker. In a back four, his defensive weaknesses - such as his marking and concentration - are exposed. Indeed, Chelsea's defence as a whole suddenly becomes suspect again.
Conte also knows that his current squad is not strong enough to compete on two major fronts. The 47-year-old is targeting a top central midfielder, striker and wing-back this summer, and Goal understands that Franck Kessie, Milan Badelj, Alvaro Morata, Moussa Dembele, Romeu Lukaku and Sead Kolasinac have all been shortlisted.
It is imperative that Conte improves both his starting XI and his back-ups. The likes of Victor Moses, Marcos Alonso and Gary Cahill have been exceptional this season but to compete with super-clubs like Barcelona, Real Madrid, Bayern Munich and Juventus, Chelsea need to upgrade in these positions.
Wenger: My Arsenal job not on the line
Conte also cannot rely on his best players always staying fit. Chelsea have yet to suffer any serious injuries, with seven of their strongest XI playing in 22 or more of the 24 Premier League matches. Diego Costa has turned out 22 times, Eden Hazard, Kante and Matic 23, Cesar Azpilicueta and Thibaut Courtois 24 and David Luiz 20. With the added stress of playing two games a week, it is inevitable Chelsea will suffer more injuries and they will need stronger reserves than Michy Batshuayi.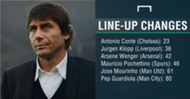 Conte also will have to learn how to rotate his squad better if he is to prevent his stars from burning out. At Juventus, he was criticised for always fielding his strongest XI in Serie A before European matches, even against lowly opposition.
Juve often turned up in Europe lacking the energy and intensity that is so important in Conte's teams. Never was this more apparent than versus Benfica in the 2014 Europa League semi-final second leg. Three days earlier, Conte had played nine of his first team against Sassuolo on a rain-soaked pitch despite the Scudetto having been all but wrapped up. A jaded Juve could only draw 0-0 against Benfica's 10 men and were eliminated 2-1 on aggregate.
This season, Conte has used only 21 players in the Premier League - with five of those making all of their appearances from the bench. According to Opta, the only team from Europe's big-five leagues to beat that this term are Bayern Munich (20), and the Bavarians have played five games fewer. Conte has also made the least line-up changes in the Premier League at 23 - a drastically lower figure than at Arsenal (42), Tottenham (46), Manchester United (61) and Manchester City (80).
There is no doubt that Conte is a world-class manager doing incredible things in the Premier League but if he is to also take the Champions League by storm, then he must learn the lessons from his past.