Brazil v Cameroon
Charismatic Richarlison winning hearts, friends and influencing people with Brazil
---

OPINION- Rupert Fryer & Raisa Simplicio
---
"I didn't know I had to try," said a grinning Richarlison last week, his infectious smirk warming the travelling Brazilian media pack gathered in a small room at Arsenal's training complex that November afternoon.
They hadn't expected to hear anecdotes from a Selecao star's school days; but then Richarlison isn't your average Selecao star.
"I thought, 'I won't do anything in this art class, because my uncle is the teacher and he will pass me'... I failed that class."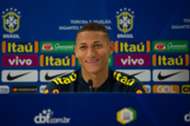 Richarlison has passed Tite's with flying colours since a surprise call-up in September, when he was asked to join the squad late-on after his friend and former Fluminense team-mate Pedro was injured.
Richarlison made both Brazil squads since and has graduated into a bonafide Brazil international, with many back home calling for him to be a guaranteed starter in the first XI. 
His freshman spell could hardly have got off to a better start as he capped his full debut, and just his second cap, with two goals against El Salvador in September.
His first was celebrated with the now famous pigeon dance which, we discovered this week, has a high-profile admirer in Neymar's son Davi, who asked the Brazil captain to recreate the dance should he find the net against Uruguay.
"I was a little shy when I first joined the squad," Richarlison admitted when asked about his first few days as an international. "But after the second day I began to loosen up. I'm very playful now, with Willian, Neymar and Eder Militao... when they're here, they always have fun with me."
So, too, does fellow Everton star Yerry Mina, with whom Richarlison has become something of a social media phenomenon as the duo document their journeys around Merseyside.
In fact, everyone, it appears, can have fun with Richalison. On Friday night after the Brasil Global Tour victory over Uruguay, the Everton forward was the last one back in the locker room – choosing instead to take a few minutes to meet and greet all the fans around the players' tunnel, posing for selfies and signing autographs.
Everybody loves @richarlison97 #BGT #Brasil pic.twitter.com/G5LPL9J2mV

— Brasil Global Tour (@BGT_ENG) November 17, 2018
But his quick wit and enthusiasm is far from restricted to the tight confounds of a press room or meet-and-greets – Richarlison has been every bit as dynamic and enthusiastic on the pitch, too. In just three short months, he has proved to Tite that he can offer the attacking depth and penetration that perhaps this team has lacked in recent months.
Gabriel Jesus' pace and instance on running in behind the opposition was vital to all Tite's early success as Brazil boss, but this year he has looked a different player. Perhaps Jesus has overcompensated as he attempted to fulfil his coach's wishes of improving his approach-play and all-round game, which seems to have left Brazil without someone running in behind and pushing the opposition back towards their own goal.
Richarlison most certainly offers what that sort of 'verticality' and his eternal desire to ensure both he and his team-mates are continually heading for goal has been every bit as refreshing as it's been promising.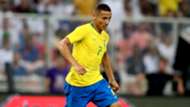 It's been a whirlwind 18 months for a player whose switch from Fluminense to Watford in the English Premier League was initially met with surprise back home, as many wondered what exactly they had been missing about a player who hadn't really stood out in the Brasileirao.
Now he's a £40 million 21-year-old Brazil international targeting a place at a historic Copa America that be will be contested on home soil. Tipped to start Tuesday night's Brasil Global Tour clash with Cameroon, this week could see him book his ticket.
Because nobody, from the press to the players, to Tite and the coaching staff, will really want to be without Richarlison next June.
"Tite is like a parent to me," Richarlison admitted last week; which means he can rest assured they'll be no uncle flunking him this time around.