Premier League
Heroic Arsenal target Martinez cannot hide Argentina's grass-roots woes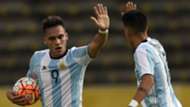 ---
COMMENT
---
There are two men on Saturday that will be happier than most with Lautaro Martinez's heroics in securing Argentina a last-minute berth in the Under-20 World Cup this year. One is Victor Blanco, Racing Club's president who must already be adding several figures onto the price tag of the 19-year-old forward already coveted by Arsenal and Real Madrid in Europe.
The other is Claudio Ubeda, the beleaguered Argentina coach who against all odds saw the country's South American Championship campaign veer from utter disaster to squeezing into the final qualification place. Martinez got the Albiceleste there against all hope, almost single-handed; a last-minute equaliser against Brazil on Wednesday was followed by two goals to sink Venezuela in the final, decisive fixture, with the Selecao's tepid goalless draw against already eliminated Colombia ensuring Ubeda's men would sneak into the tournament by a single point alongside Uruguay, Ecuador and Venezuela.
But the feats of Martinez, who netted five times in Ecuador, should not obscure one clear fact: that Argentine youth football is in a sorry state, with organisational chaos stifling grass-roots talent from emerging and impressing in national colours. 
Conte: Man United still in title race
Indeed, the best performance given in Ecuador by a side wearing the Albiceleste was arguably Atletico Tucuman's, when the Copa Libertadores challengers beat El Nacional wearing Argentina shirts following an incredible race against time provoked by a delayed flight. 
Along the way to this agonising qualification, the youngsters have also been sent reeling by punishing 3-0 reverses to Uruguay and hosts Ecuador, and there has been precious little to show the class of 2017 will one day pick up the mantle left behind by Lionel Messi and the rest of the current senior side. 
The talent is there, as always. So why then have Argentina fallen so short in the tournament they won two years ago? 
That 2015 triumph was, in fact, the glorious exception to the rule. Led by the likes of Gio Simeone and Angel Correa, both now established in Europe, as well as River Plate wonderkid Sebastian Driussi, that Argentina win owed more to stunning individual skill than the strength of a coherent collective project. Overall the last 10 years since Sergio Aguero and Angel Di Maria pushed the nation to their last World Cup victory in the age group have been nothing short of a catastrophe.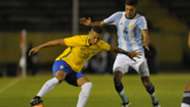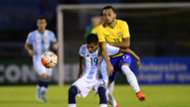 Argentina have failed to qualify for two of the last four Under-20 World Cups, advancing from the first round in just one. The reasons are simple: at an age where players benefit from close attention and constructive coaching methods, those at the top of the nation's football have shown an almost criminal contempt for the youngsters. Julio Olarticoechea, who was in charge for 2016's abysmal Olympic Games campaign, laid starkly bare the problems at grass-roots faced by the next generation. 
"We have two people working with 30 kids... nine from the interior of Argentina could not come [to Buenos Aires] because there is no money," the 1986 World Cup winner fired to Futbol Continental last year while at the head of the U-20s. 
"In the AFA training ground we cannot buy food for the kids, there is no money even for spaghetti. The situation is really sad."
Indeed. The Argentine Football Association has been in chaos ever since long-time president Julio Grondona died in 2014, and following a botched election to decide the new chief the AFA has been in the hands of a Normalisation Committee which has moved much faster to sell off television rights to private enterprises than to protect the well-being of the next generations.
A taste of the improvisation that reigns in Argentina appeared in the selection of the U-20 coach when Olarticoechea could not take anymore. Some 40 coaches presented detailed projects for the youth system, blueprints to order the age group and build for the future. But the job eventually went to Ubeda, who had presented no such plans and is not exactly known for his stellar coaching record. 
With no firm hand at the rudder, the South American Championship has taken a depressingly familiar route. There have been glimmers of quality play, and the likes of Martinez, joint-top scorer Marcelo Torres and commanding anchorman Santiago Ascacibar have all performed admirably.
But the same old problems of lack of tactical nous and a disturbing lack of discipline have raised their ugly heads throughout. The red cards continue to flow for idiotic fouls, most notably Tomas Belmonte's disgraceful studs-up challenge on Ramiro Bentancur with a key game against Uruguay poised at 0-0. Going down to 10 men at this level is almost game over, as it proved against the Celeste who went on to win 3-0, and it happens far too frequently for Argentina to be put down to mere bad luck. And while no-one doubts Ubeda's commitment to the job, he is just the latest in a string of trainers who seem to have taken on the U-20 job as a semi-sabbatical for five months while they wait for something else to come along. 
If the AFA really want to work on the junior levels, they do not have to look too far. Uruguay lead the tournament going into the final round, and a win against hosts Ecuador would guarantee the Celeste their first South American title for 36 years. Their coach is one Fabian Coito, who joined up with senior boss Oscar Tabarez in 2007 as Under-15 trainer and gradually worked up the ranks, always part of the national team system, until landing the U-20 job in 2014. 
The results of a progressed, coherent program have been clear. Uruguay have qualified for the last five World Cups, finishing as runners-up in 2013 only due to a devastating penalty shoot-out loss to a France team led by Paul Pogba. In the same period, according to a report by Referi, local clubs have made just shy of US$100 million from the sale of young talents honed in the system. Edinson Cavani, Josema Gimenez, Nicolas Lodeiro and Gaston Ramirez are just some of the players who have come through in that time; all have gone on to form a crucial part of the senior team, guaranteeing the transition between one generation and another. 
Argentina once had such a system, overseen by Jose Pekerman that yielded back-to-back World Cup and Olympic Games triumphs and which has nourished the senior team for over a decade. But it has long been dismantled, and one can count the number of players who have progressed from the Under-20s to the seniors since 2009 almost on one hand.
The classes of 2005 and 2007 will have one last hurrah in Russia next year; but finding the next Messi, Aguero and Di Maria promises to be a daunting task as long as the youth divisions continue in a downward spiral of mismanagement and neglect, a pattern that Martinez's goalscoring exploits and Argentina's joy at a great escape will not change.