Nigeria v Ghana
Cameroon at the Awcon 2016: An example for women's football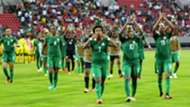 ---
COMMENT
Samuel Ahmadu
---
Despite complaints about dwindling attendances for women's football, is there reason for optimism about fan numbers and media coverage at the continental level?
The 2016 Africa Women's Cup of Nations in Cameroon seven months ago was an unforgettable showpiece, with the 40,000 Stade Ahmadou Ahidjo seeing a remarkable turnout, with more fans flocking to the ground than had done for the previous 18 years.
Supporters had filled the stadium five hours before kickoff, with some having queued outside from as early as 6am local time.
"I did not imagine that people could be so much interested in women's football," she told Goal. "This is the first time ever in my life.
"I've played football for 14 years and this is the first time that I felt liking football for the fans. I'm very impressed with the organisation."
The hosts didn't concede en route to the final and were clearly the best on the day, only to get their hearts broken by Desire Oparanozie's late strike.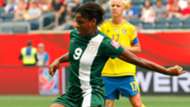 Despite the title loss to their perennial foes, Cameroon coach Enow Ngachu acknowledged that the huge attendance of "media and fans [was a] great testament to the fact that women's football is growing in Africa."
Yusif Basigi, Ghana's Awcon 2016-bronze winning coach, urged other nations to follow Cameroon's lead and support their women's teams to the hilt in order to give them the best chance of success.
"The fans were fantastic," the former Sekondi Hasaacas coach began. "They won the semi-final match for the Cameroonian team and helped them to go far in the competition.
"The media also hyped the team very well. Every local and national media outfit were talking about the Lionesses," he added. "Billboards, water bottles and every advertisement around the country were for them.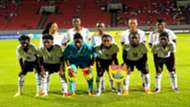 "That alone was enough to scare the participating countries," he added. "If that had not existed I think the Cameroonian team could have crashed out at the group phase.
"The fans, the government, and media had pushed the team very far. It is a big lesson to us [Ghana] and other countries. I've never seen such in my 20 years of being part of women's football."
Unfortunately, the increasing support and media hype during championships are yet to be replicated in many domestic leagues across Africa, and Kenyan journalist Julia Wanjeri feels national presidents, fans and media have a great role to play. 
"Leadership of national FAs must show more interest by reviving or establishing the women leagues, giving them a national outlook by having playoffs and not only regional leagues," she said.
On media, she also notes: "They have for a while given women's football the blackout. but they are crucial in taking women's football to the next level as sponsors want visibility.
"If they can harp on women's football more loudly and frequently, then the game will draw more eyeballs."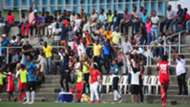 In Nigeria, women's football advocate Moses Bako believes fans are key to attracting more support and sponsorship for women's clubs in Africa, saying that, "fans are the heart of football and [FAs] need to put them first.
"Too little, if any, care is given to fans, especially in the women's game. Growing a fanbase makes teams easily marketable when fans go everywhere talking about them.
"It is not easy attracting fans for our team but I tactically lure people to come and watch the girls, and their orientation about the women's game changes and they get more interested without being pressured," Bako told Goal, in reference to progress made in Nigeria. 
"It is very important that women's clubs in Africa consider growing their fanbase."
There have been calls for new initiatives for the rebirth of women's football by the new Ahmad Ahmad-led confederation, and a good place to start is with the support of media and fans. The example of Cameroon at the 2016 Women's Nations Cup demonstrates just what's possible when the women's teams get the attention and the support that they deserve.