Africa Women Cup of Nations
Caf selects two Nigerian referees for Africa Women's Cup of Nations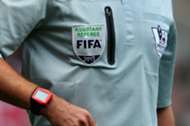 Nigeria's Madu Patience and Mimisen Iyorhe were listed when the Confederation of African Football released the list of referees that will officiate at the 2018 Africa Women's Cup of Nations.
The Nigerian duo were among the 32 referees and assistant referees shortlisted to embark on a preparatory course to fine-tune their readiness for the women's tournament in Ghana next month.
The course is scheduled for October 17-21,  2018 in Cape Coast, one of the venues for this year's biennial championship scheduled to hold November 17 to December 1, 2018.
During the course, the selected 16 referees and 16 assistant referees will go through medical screening, theoretical and physical drills in their quest to make the list for the final tournament.
They will also undergo a theory part, involving technical and tactical analysis of the game, reviewing of video clips of matches plus a special session on integrity and match manipulation.
According to CAF Refereeing Manager, Eddy Maillet, the course is the key step towards preparations for the final tournament. It provides the platform to assess and evaluate the match officials, and to select the best and well-conditioned ones for the Women's Africa Cup of Nations Ghana 2018, also the continental qualifier for the FIFA Women's World Cup France 2019.
The five-day training will be supervised by CAF Instructors Lim Kee Chong (Mauritius), Hadqa Yahya (Morocco), Lawson Hogban Latre-Kayi (Togo), Mademba Mbacke (Senegal) and Marwa Hannachi (Tunisia).
16 Referees
1 Maria Packuita Cynquela Rivet - Mauritius
2 Ganouati Dorsaf - Tunisia
3 Lengwe Gladys - Zambia
4 Jonesia Rukyaa KABAKAMA - Tanzania
5 Lidya Tafesse ABEBE - Ethiopia
6 Fatou Thioune - Senegal
7 Stellah Ruvinga - Zimbabwe
8 Aurore Christelle M. Ligan - Benin
9 Zomadre Sonia KORE - Cote d'Ivoire
10 Salma Mukansanga - Rwanda
11 Amedome Vincentia Enyonam - Togo
12 Viana Letticia - Eswatini
13 Suavis Irantunga - Burundi
14 Karboubi Bouchra - Morocco
15 MADU Ndidi Patience - Nigeria
16 APPIAH Juliet - Ghana
16 Assistant Referees
1 Rakotozafinoro Lidwine Pelagie - Madagascar
2 Mona Mahmoud Atallah - Egypt
3 Kanjinga Mireille MUJANAYI - DR Congo
4 Chikotesha Diana - Zambia
5 Denis Kassonoux Akoua - Cote d'Ivoire
6 Josiane Mbakop Nfongan - Cameroon
7 Carolyne Wanjala - Kenya
8 Adia Cisse - Senegal
9 Fanta Idrissa Kone - Mali
10 Njoroge Mary-  Kenya
11 Mimisen Agatha IYORHE - Nigeria
12 Nantabo Lydia WANYAMA - Uganda
13 Kwimbira Bernadettar - Malawi
14 Bielignin Elodie Sophie SOME - Burkina Faso
15 Queency Victoire - Mauritius
16 Jermoumi Fatiha - Morocco