Africa Cup of Nations
Caf president Ahmad throws doubt on Cameroon hosting 2019 Afcon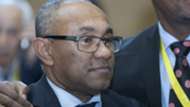 Confederation of African Football (Caf) president Ahmad has made an about-turn on his views about Cameroon's capacity to host the African Cup of Nations (Afcon), throwing into doubt that the central Africans will organise the tournament.
Cameroon's preparedness for an expanded 24-team tournament has been under scrutiny after they were initially awarded rights to cater for a tournament with 16 teams.
Late last month, Ahmad declined to comment on the possibility of Cameroon being stripped of hosting rights, before giving assurances earlier this month that there is no plan B to host the tournament.
Caf vice president Amaju Pinnick also stressed that the tournament will not be taken away from Cameroon earlier this month soon after the completion of the third round of inspecting Cameroon's readiness.
"I am not sure Cameroon is ready to host the Afcon," Ahmad told KweséESPN.
"There are many things which are still wanting and yet there is little time left. It would be dangerous to risk African players, especially the professionals plying their trade in Europe and other continents, to play under difficult conditions and facilities."
"If you are not ready, come out open and say you are not ready. In 1996, Burkina Faso was supposed to host the Afcon but said they were not ready, and South Africa took up the chance to host.
"If you asked me, Cameroon would be the best country to host the Afcon now because of their football history, but there are still some questions about their readiness to host a successful tournament.
"Cameroon are still having big problems with infrastructure like the pitches and even hotels. Equatorial Guinea jumped in at the last moment to host 2015 Afcon and this can also happen."
It has been 46 years since Cameroon hosted the Afcon finals and back then, only eight teams participated.
But having hosted the eight-team 2016 Africa Women Cup of Nations, Cameroon could be confident of their stadia, training facilities and accommodation infrastructure as well as transport networks.
If Cameroon are no longer hosting the event, then Morocco and South Africa could be alternative options.